Good evening Ladies and Gentlemen:
Gold closed up by $3.30 to finish the comex session at $1677.40, while silver after being down for most of the day finished unchanged at $31.86. The bankers showed up for work early this morning (at 3 am est), knocking both precious metals down in Europe but by 6 am, gold shot up to $1680 before being repelled back down. However gold again rebounded and never looked back. Silver was in negative territory throughout the day until near the end where it popped above par and then finished unchanged. The total silver comex OI is now over 151,000
In news today, we again learn of another derivative mess at Italian bank, BMPS as a 4th derivative (Fresh 2008) was unearthed with the underwriter being none other than JPMorgan, the crooked. We wonder how many other derivatives have yet to be unearthed at BMPS and/or other Italian banks?
Platinum surged $26.00 today as supplies from South Africa are severely hampered.
The Royal Bank of Scotland is the newest bank to be fined for its role in the Libor scandal. The CFTC fined these guys 650 million dollars. There will be many more fined before this is over.
However they fail to address one of Libor's real role in the rigging and this is to keep gold/silver from going into backwardation. A lower libor rate keeps the future price higher and thus keep the necessary contango. The bankers did not want to give the impression of shortages of metal so the rigged libor.
At the USA mint, silver eagle sales on the first day reporting is 675,000 1 oz silver coins.
In Japan, Bank of Japan governor is now expected to leave office on March 19.2013 instead of in April.
The Prime Minister Abe could not be any happier as he can now crank up the printing machines sooner than expected. Today he asked companies to raise wage rates in the hope that this would stimulate the economy. He never thought about costs to the companies.
In the USA, the USPS announced that it would be cutting out Saturday deliveries. Also primary dealers thought that the USA budget deficit will remain above 1 trillion dollars for 2013.
We will discuss these and many other stories but first let us head over to the comex and assess trading today............
The total comex gold open interest rose by 701 contracts from 423,281 up to 423,982. Gold was down yesterday so the mini raid had no effect on our gold longs. The active February gold contract month saw it's OI fall from 2386 down to 2234 for a loss of 152 contracts. We had 63 delivery notices filed on Tuesday so in essence we lost 89 contracts or 8900 oz of gold standing for delivery in February. The next big delivery month is April and here the OI fell by 1272 contracts from 255,161 down to 253,889. The estimated volume today was quite anemic at 103,729. The confirmed volume yesterday was better at 167,786 as the bankers orchestrated their mini raid.
The total silver comex OI completely baffles the bankers. Today the OI rose by 660 contracts, from 150,852 up to 151,512. The bankers are trying to shakes the silver leaves but it seems it is not working as silver was down 16 cents. The raid had no desired effect on our silver longs. The non active February silver contract month remained constant in open interest at 17. The next big active delivery month for silver is March which is 3 1/2 weeks away. Here the OI lowered a bit form 73,514 down to 71,967 as our some of our paper players rolled into May. The estimated volume at the silver comex was extremely low at 29,323 compared to yesterday's confirmed volume of 50,780.
Comex gold/February contract month:



| | |
| --- | --- |
| | |
| Withdrawals from Dealers Inventory in oz | |
| Withdrawals from Customer Inventory in oz | |
| Deposits to the Dealer Inventory in oz | |
| Deposits to the Customer Inventory, in oz | nil |
| No of oz served (contracts) today | |
| No of oz to be served (notices) | |
| Total monthly oz gold served (contracts) so far this month | |
| Total accumulative withdrawal of gold from the Dealers inventory this month | |
| Total accumulative withdrawal of gold from the Customer inventory this month | 75,941.547 |
We had no activity at the gold vaults.
The dealer had no deposits and no withdrawals.
We had 0 customer deposit:




total deposit: nil oz



We had 0 customer withdrawal:



total withdrawal: nil oz
Thus the dealer inventory rests tonight at 2.925 million oz (90.97) tonnes of gold.
The CME reported that we had 11 notices filed for 1100 oz of gold today. The total number of notices so far this month is thus 10,322 contracts x 100 oz per contract or 1,032,200 oz of gold. To determine how much will stand for February, I take the OI standing for February (2234) and subtract out today's notices (11) which leaves me with 2223 notices or 222,300 oz left to be served upon our longs.
Thus the total number of gold ounces standing in this active month of February is as follows:
1,032,200 oz (served ) + 222,300 oz (to be served upon) = 1,254,500 oz or 39.09 Tonnes.
we lost 89 contracts or 8900 oz of gold.
February 6.2013: The February silver contract month
| | |
| --- | --- |
| Silver | |
| Withdrawals from Dealers Inventory | 172,669.5 (Brinks |
| Withdrawals from Customer Inventory | 22,821.22 (Brinks) |
| Deposits to the Dealer Inventory | nil |
| Deposits to the Customer Inventory | nil |
| No of oz served (contracts) | 0 (nil oz) |
| No of oz to be served (notices) | 17 (85,000 oz) |
| Total monthly oz silver served (contracts) | 72 (360,000 oz) |
| Total accumulative withdrawal of silver from the Dealers inventory this month | 182,996.5 |
| Total accumulative withdrawal of silver from the Customer inventory this month | 913,029.0 |
Today, we had tiny activity inside the silver vaults.
we had no dealer deposit and one dealer withdrawal.
i) Out of Brinks: 172,669.50 oz
We had 0 customer deposits of silver:
total customer deposit: nil
we had 1 customer withdrawals:
i) out of Brinks: 22,821.22 oz
total customer withdrawal: 22,821.22 oz
When you see massive deposits and withdrawals you know that there is turmoil inside the silver vaults.
Registered silver remains today at : 37.032 million oz
total of all silver: 158.500 million oz.
The CME reported that we had 0 notices filed for nil oz of silver for the February contract month. To obtain what is left to be served upon our longs, I take the OI standing for February (17) and subtract out Friday's notices (0) which leaves us with 17 notices or 85,000 oz left to be served upon our longs.
Thus the total number of silver ounces standing for delivery in silver is as follows:
360,000 oz (served) + 85,000 oz (to be served upon) = 445,000 oz
We neither gained nor lost any silver standing for February.
The two ETF's that I follow are the GLD and SLV. You must be very careful in trading these vehicles as these funds do not have any beneficial gold or silver behind them. They probably have only paper claims and when the dust settles, on a collapse, there will be countless class action lawsuits trying to recover your lost investment.
There is now evidence that the GLD and SLV are paper settling on the comex.
Total Gold in Trust: Feb 6.2013:
Tonnes1,328.09
Ounces42,699,500.65
Value US$71,455 billion
Feb 5.2013:
Tonnes1,328.09
Ounces42,699,500.65
Value US$71.424 billion.
Feb 4.2013:
Tonnes1,328.09
Ounces42,699,500.65
Value US$71.104 billion
Feb 1.2013:
Tonnes1,328.09
Ounces42,699,500.65
Value US$71.235 billion
we neither gained nor lost any gold at the GLD today.
and now for silver:
Feb 6:2013:
| | |
| --- | --- |
| Ounces of Silver in Trust | 335,036,944.900 |
| Tonnes of Silver in Trust | 10,420.81 |
Feb 5.2013
| | |
| --- | --- |
| Ounces of Silver in Trust | 335,175,993.900 |
| Tonnes of Silver in Trust | 10,425.14 |
feb 4.2013:
| | |
| --- | --- |
| Ounces of Silver in Trust | 335,175,993.900 |
| Tonnes of Silver in Trust | 10,425.14 |
we lost 139,000 oz of silver at the SLV today. (6 pm est figures)
And now for our premiums to NAV for the funds I follow:
Sprott and Central Fund of Canada.





(both of these funds have 100% physical metal behind them and unencumbered and I can vouch for that)




1. Central Fund of Canada: traded to a positive 3.8 percent to NAV in usa funds and a positive 3.7% to NAV for Cdn funds. ( Feb 6 2013)
2. Sprott silver fund (PSLV): Premium to NAV rose to 2.40% NAV Feb 6./2013
3. Sprott gold fund (PHYS): premium to NAV fell to 2.77% positive to NAV Feb 6/ 2013..




Now we witness the Central fund of Canada gaining big time in its positive to NAV, as we now see CEF at a positive 3.8% in usa and 3.7% in Canadian.This fund is back in premiums to it's former self with respect to premiums per NAV.
The silver Sprott fund announced a big silver purchase and this reduces the premium to NAV temporarily. It looks like England may have trouble in finding gold and silver for its clients.

It is worth watching the premium for gold at the Sprott funds which is a good indicator of shortage as investors bid up the premiums.







And now for the major physical stories we faced today:
First gold trading from Europe and Asia courtesy of Goldcore.
Important points:
1. Platinum surges 12% year to date as mine closures in South Africa is having its effect on supply.
2. Supply of platinum falls to a 13 year low.
3. Expected yearly supply of platinum is expected at 5.68 million oz or a drop of 2.7%
4. Demand for platinum picking up as car manufacturers demanding .5% more platinum.
5. Coin sales at the mint: gold zero reported
silver: 675,000 oz of 1 oz silver eagles.
6. Major discussion of the huge shortfall in supply of platinum courtesy of goldcore
(courtesy goldcore)
Platinum Surges 12% YTD – Mine Closures Sees Supply Fall To 13 Year Low
Submitted by Tyler Durden on 02/06/2013 08:07 -0500
Silver is trading at $31.81/oz, €23.64/oz and £20.41/oz. Platinum is trading at $1,736.00/oz, palladium at $768.00/oz and rhodium at $1,200/oz.
Gold edged off $0.50 or 0.03% in New York yesterday and closed at $1,673.00/oz. Silver rose to $32.10 in London before it dropped off to $31.60, but it then bounced back higher midday and finished with a gain of 0.25%.
Gold rose 0.6% in Australian dollars after poor retail figures led to concerns about the Australian economy and outlook for the currency.
Gold slipped $2 an ounce and the drop may have been triggered by news that India's central bank would consider imposing value and quantity restrictions on gold imports by banks under "extreme conditions".
The world's biggest consumer of gold is battling a record high current account deficit. Rather than tackling the root cause of the problem, bankers are again tackling the symptom which is demand for gold. However, the anti gold stance and attempts to curb gold demand in India by the government is leading to some 25%of gold flows into India coming from irregular channels. A warning for anti gold and anti free market governments everywhere.
A further slide in the yen led to more buying of gold futures on the Tokyo Commodity Exchange (TOCOM), with the most active contract, currently December, hitting a record for the fifth consecutive day at 5,073 yen a gram – over 0.157 million yen per ounce.
The U.S. Mint reported their bullion coin sales figures for February. Interestingly, no gold eagles or gold buffaloes (1 ounce 24K) were sold but silver continued to be favoured by bullion buyers and the US Mint sold a substantial 675,500 of one ounce silver eagles.
Platinum has surged another 1.5% to $1,738/oz this morning and palladium its highest since September 2011 (766.22/oz) due to increasing concerns about supply and industrial and investor demand.
Platinum prices have already risen by more than 12% so far in 2013, following the same advance for all of 2012.
Platinum supplies have fallen to a 13-year low as mines in South Africa, the world's biggest producer, close and the platinum industry is in crisis due to industrial unrest, geological constraints and sharply rising costs.
Global production will drop 2.7% to 5.68 million ounces, the least since 2000, according to Barclays Plc, which raised its 2013 shortage estimate sixfold last month after Johannesburg-based Anglo American Platinum Ltd. (AMS) said it plans to idle shafts.
Anglo American Plc's platinum unit, the largest producer, last month proposed the halt of four mine shafts that would cut about 7% of global production.
At the same time, demand from carmakers, the biggest consumer of the metal, will increase 0.5 percent in 2013, Barclays says.
Perhaps, most importantly investors are buying platinum at the fastest pace in three years and yet holdings of platinum remain very, very small.
Global production of the metal will fall as South African output drops 3.4% to a 12-year low of 4.11 million ounces, Barclays estimates.
"Supplies are very tight and it's a serious situation," said Mihir Worah, who manages $110 billion in real return strategy funds at Pacific Investment Management Co., in Newport Beach, California told Bloomberg.
"Not only are there issues on the supply side, we could see surprises on the demand side as well."
Concern about supply sent platinum prices above gold in recent days for the first time since April. Platinum traded above gold from December 2008 through August 2011.
There was a 394,000 ounce shortage last year as Impala Platinum Holdings Ltd. (IMP) shut its Rustenburg mine, the world's biggest, and police killed workers striking over pay at Lonmin Plc (LMI)'s Marikana complex.
South African producers closed nine platinum mine shafts and dismissed 3,332 workers in the second half of 2012, the Department of Mineral Resources says.
Amplats, said last week it would idle four shafts and cut 400,000 ounces of platinum output a year, about 7% of global production, to restore profitability. The company said last week it would postpone that decision for as many as 60 days to allow for government and union talks.
Holdings in exchange traded-products backed by platinum expanded 1% to a record 51.5 metric tons yesterday, data compiled by Bloomberg show.
Investors have bought more than 5 tons of platinum through exchange-traded products in January, the most in three years.
However, the 51.5 metric tonnes owned through ETPs are worth less than $3 billion and there is the potential for allocations to rise from the tiny levels of today to much higher levels in the coming months.
Platinum remains undervalued and would have to gain another 35% just to reach the record nominal high seen in March 2008 at $2,300/oz.
Longer term , platinum's inflation adjusted 1980 high of nearly $4,000/oz seen in 1980 is likely.
In 1980, the mining industry in South Africa, where more than 80% of supply comes from, was not in crisis. China and emerging markets were not seeing the growth of huge middle classes demanding cars with catalytic converters and global currency debasement was not taking place.
Record platinum prices are also likely as platinum is an extremely rare metal and is much rarer than gold. Today, we live in a finite natural world of geological constraints and yet we are witnessing huge population growth and near infinite money creation.
Platinum and precious metals have a negative average correlation to paper assets. Precious metals are one of the very few asset classes with a positive correlation coefficient with inflation - meaning that precious metals act as a hedge against inflation.
Go to update 3 and have some fun re the question Chris Powell sent to the FRBNY. Powell states that gold transactions involving only foreign nations would have contractual confidentiality but not if the gold transactions involved USA gold.
(courtesy GATA/Lars Schall)
Why the secrecy around NY Fed transactions involving U.S. government gold?
Submitted by cpowell on Wed, 2013-02-06 02:33.
Section: Daily Dispatches
9:30p ET Tuesday, February 5, 2013
Dear Friend of GATA and Gold:
Financial journalist Lars Schall reports tonight (in the "Update 3" paragraph at the link below) that the Federal Reserve Bank of New York appears to be declining to explain the secrecy around its gold transactions and even around gold transactions involving the U.S. government-owned gold:
CHRIS POWELL, Secretary/Treasurer
Gold Anti-Trust Action Committee Inc.
Antal Fekete is coming close to my theory that China is the ultimate short. He states that China is naked selling calls on it's silver. I am stating that China lent it's 300 million oz of silver to the bankers who in turn have lent this out. China then buys gold as they know that the bankers are intent on lowering the price of precious metals. They would also use proxies to buy silver with the cash earned from their exports.
(courtesy Antal Fekete/GATA)
Antal Fekete: China's risk-free bonanza in covered call selling in silver
Submitted by cpowell on Wed, 2013-02-06 02:39.
Section: Daily Dispatches
9:34p ET Tuesday, February 5, 2013
Dear Friend of GATA and Gold (and Silver):
24hGold tonight republishes a 4-year-old essay by the economic historian Antal Fekete speculating, as silver market analyst Ted Butler long has done, that China is the major short in the silver market.
"The Chinese," Fekete writes, "are alive to the fact that escaped the silver bugs in the West -- that you can derive a silver income from your pile of silver by covered short selling, even while retaining physical control of your silver hoard.This is an unprecedented bonanza in the history of money. It has never before happened that you earn interest while retaining physical control of your money. Typically you have to release control of money to earn interest income -- that is, you have to assume risk. Lending money necessarily involves risks: The borrower may default. But if you don't give up physical control, then you will escape the monetary debacle unscathed. Because of the imbecility of the managers of the paper dollar standard there exist durable risk-free profit opportunities in holding monetary metals in the balance sheet. The trick is: covered selling. That's possible because the price of monetary metals has been allowed to fluctuate. The price fluctuation of a monetary metal, like the flow-and-ebb of the oceans, represents energy -- energy that can be harnessed, energy that can be harnessed only by those who understand monetary economics."
Fekete's commentary is headlined "The Double Whammy of Geopolitical Gold Games" and it's posted at 24hGold here:
CHRIS POWELL, Secretary/Treasurer
Gold Anti-Trust Action Committee Inc.
Banks Must End 'Brazen, Flagrant' Manipulation: CFTC's Chilton
Published: Wednesday, 6 Feb 2013 | 9:00 AM ET
By: Javier E. David | Special to CNBC.com
Source: U.S. Government
CFTC Commissioner Bart Chilton




Big banks that rigged interest rates behaved in "brazen, flagrant" fashion, the head of the Commodities and Futures Trading Commission told CNBC on Wednesday, adding that imposing hefty fines were needed as a deterrent to bad behavior.
In the wake of disclosures that Royal Bank of Scotland would be fined $627 million by regulators in the U.K. for global interest-rate rigging, Bart Chilton, the CFTC Commissioner, called for a "culture shift" as part of an effort to rein in improprieties at large financial institutions.
"They were really acting like they were flying above the law in arrogant fashion," Chilton said on "
Squawk Box
." He said the stiff penalties levied against RBS showed that regulators were serious about cleaning up financial markets.
javascript:void(0)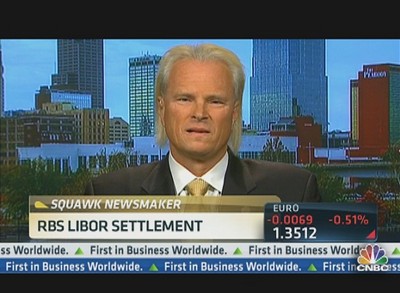 Play Video
RBS to Pay Big in Libor Rate-Rigging Role
Bart Chilton, CFTC commissioner, discusses the details of RBS' settlement deal, and how they caught the traders who thought they were above the law.
"If you violate the law, you should be punished. The law is the law," the CFTC chief said. "That's why these penalties, like this one, over $600 million are so important. It sends a serious and significant message: don't mess with markets."
After the 2008 crisis, major global banks such
Royal Bank of Scotland
(RBS),
UBS
and
Barclays
found themselves at the center of accusations that they had manipulated the
London interbank offered rate (Libor)
. The rate is used to calculate numerous financial instruments, including credit cards and mortgage rates.
"With UBS and RBS, their submissions were actually included and they did manipulate [Libor]," Chilton said. "We call it perfected manipulation.Not only did they try to manipulate, they had a perfected manipulation."
Dave from Denver talks about the next big move in gold;
(courtesy the Golden Truth/Dave from Denver)
WEDNESDAY, FEBRUARY 6, 2013
When you turn to the East and look at Japan, we are now almost at a record high gold price as measured in Japanese yen. I think that tells you all you have to know about where the whole world is going in terms of the gold price. The Japanese are being so overt about their intent to debase the yen that it's being reflected in the gold price over there.That's coming to America, Europe, and the rest of the world, where we see the same type of debasement going on...

- John Embry,

King World News
There's been a lot of media misdirection and appallingly invalid commentary about the relative strength of the economy and the outlook for the precious metals. I've addressed the first issue in some previous posts, most notably my recent post on housing.
As for the latter, a blogger who goes by "Mad Max Trader" posted a widely distributed piece that suggested the bull market in gold has been fueled by China's huge buying over the past decade, that this demand will decline with the growth in China's economy, and the "air" will let out of the price of gold:
LINK
.
Unfortunately, this analysis has absolutely no basis in actual fact. The truth is that China imported a record amount of gold in 2012:
LINK
It should be pointed out that this is gold that is "consumed" by the public and does not reflect the buying from China's Central Bank. Furthermore, on more than one occasion a Chinese Central Bank official has made the comment that China needs to diversify its massive currency reserves by increasing the percentage held in gold. The author further made no mention of the accelerating trend among most global Central Banks to accumulate gold; and neither did he mention the ongoing demand for gold in the largest gold buying countries like India and Viet Nam or the growth in demand coming from the Middle East.
On that note, I thought I would post this chart for everyone who is getting dragged down by the poor investor sentiment toward gold and the mining stocks:
(click on chart to enlarge)
This is a 10-yr weekly chart of gold. I'm not sure that Richard Russell, or even Charles Dow himself, could create a more bullish snapshot of a bull market in process. Keep in mind that in general, and certainly throughout the course of the 12-yr. precious metals bull market, extreme negative sentiment like we have currently has always marked the start of the next big up-leg for gold. In fact, I can recall back in late 2003, when gold was trying to press through $400, famed Elliot Wave theorist Robert Prechter proclaimed that gold had failed the $400 level and was headed to $50. You see how accurate the call was.
The Government is starting to run into a brick wall with regard to covering operating costs. Just today the Postal Service announced it was cutting out Saturday delivery service in an attempt to stay alive without a massive bailout. That bailout is only postponed. The bigger problem for the Government is how to cover the more than $85 trillion of unfunded entitlement liabilities. The truth is that the only way that can be dealt with is either by defaulting on them or printing the money needed to cover them. They represent, by the way, 5.7x the GDP, so there's no way that the U.S. can ever hope to "grow" its way out of the problem. Please note, the current amount of funded and unfunded liabilities does not account for any of the Government liability connected to the failing pension system (PBGC), the rapidly deteriorating quality of the FHA-guaranteed mortgage portfolio or the likely re-collapse of FNM/FRE.
As more money is printed to cover the accelerating Government spending and guarantees, confidence in the full faith and credit backing the U.S. dollar will plummet and the holders of the paper backed by that "full faith and credit" will seek refuge in hard assets, most notably physical gold and silver, which are increasingly seen as fiat currency alternatives. Those who are the first to make this conversion will benefit the most from the inherent wealth transfer that will occur from the holders of paper assets to the holders of real assets.
end
And now for your important paper stories which will certainly have an influence on gold and silver.
First, overnight sentiment
Important points:
1. The Japan Yen/USA cross overnight cross touched 94 with the news that Shirakawa is leaving 3 weeks earlier than expected on March 19.2013 (see below). The departure also coincides with the departure of two deputy governors. This paves the way for Abe's pre announced QE.
The bank's Sato announcing that he wishes to correct "the yen's appreciation".
2. France's finance minister angry at the higher Euro calls for
"the eurozone to manage its exchange rate," and repeats calls that "the EUR has gone up far too much, too fast."
3. German factory orders rise by .8% (expectations of .7%). However all of the gain was from Eurozone areas. Non euro zone areas fell as the stronger euro certainly had its effect on these orders.
4. Berlusconi gaining in the polls. Berlusconi is advocating Italy removing herself from the EU.
5. Soc Gen gives details on overnight sentiment
6. Early market data supplied:
(courtesy zero hedge/Soc Gen/)
European Sentiment Dampened On Resurgent Berlusconi
Submitted by Tyler Durden on 02/06/2013 07:09 -0500
The major overnight theme, as has been the case lately, has been primarily related to the wild ongoing swings in various currencies, with the JPY dominating, after the USDJPY briefly touched 94 in overnight trading on more talk, if no actual action as usual, by various BOJ officials. Of note was the bank's Sato who said the BOJ wants focus on "channel" in which monetary policy can indirectly affect FX, JPY appreciation being corrected This ongoing FX rout in turn is pushing the Nikkei higher once more, if only in nominal terms, but keeping it largely unchanged in FX-adjusted ones. Another rout was seen earlier in Australia, where the AUD plunged following a big miss in local retail sales, confirming the retail sales weakness seen previously in the US and Europe. The issue of currency wars was dominant in Europe too, when the ECB's Liikanen said the central bank has no exchange rate target, need to give banks time to focus on core task of lending. This happened as France president Hollande calls for the eurozone to manage its exchange rate, and as French finance minister repeats calls that the EUR has gone up far too much, too fast.
Macroeconomic news-wise, it was a quiet day, with German factory orders rising 0.8% sequentially on 0.7% expected. The implosion in domestic factory orders continued, with the boost driven by foreign orders coming from the Eurozone, as non-eurozone orders again declined, indicating that the stronger EUR continues to impact the Eurozone core adversely. Furthermore, factory orders declined -1.8% Y/Y, on expectations of a -1.2% drop. It appears everyone in the entire world now seems to have problems with accurate seasonal adjustments.
But perhaps the biggest news of the night was the resurgence of Silvio Berlusconi, who managed to close the lead to the Democratic Party leader Bersani, embroiled in the fallout from the Monte Paschi scandal, to just 3.7 points, or within the 4 point margin of error, before the February 25th elections. According to a SkyTG24 poll, support for Bersani's bloc dropped 0.2 point to 33.1% from yesterday while support for Berlusconi's bloc rose 0.1 point to 29.4%. This is certainly the most catalytically destabilizing event on the horizon for Italy, and Europe, as should Silvio win the Italian elections, an outcome unthinkable as recently as a month ago, all bets about Europe's technocratic/Goldman-forced "recovery" in which only the banks are recovering, if not the people, are off.
A quick market summary as US traders come to work:
MARKETS
Spanish 10Y yield down 3bps to 5.35%
Italian 10Y yield up 1bp to 4.46%
U.K. 10Y yield down 1bp to 2.11%
German 10Y yield down 1bps to 1.64%
Bund future up 0.15% to 142.41
BTP future up 0.03% to 111.48
EUR/USD down 0.3% to $1.3542
Dollar Index up 0.26% to 79.69
Sterling spot up 0.11% to $1.5677
1Y euro cross currency basis swap down 1bp to -19bps
Stoxx 600 up 0.03% to 285.65
And some more thoughts on what to expect in daily trading from Socgen:
Trading is expected to be in a transitional phase today. After an increase in risk aversion at the start of the week stemming from political uncertainty in Spain and Italy, investors on both sides of the Atlantic are not expected to find any new catalysts which would trigger strong market trends today.
Investors will probably be readying themselves for a particularly busy today tomorrow, with the ECB and BoE both meeting, and a Spanish auction.
In the meanwhile, the EUR/USD should stay beneath its lowest point from last week at 1.3712. On the other hand, the EUR should continue to outperform the JPY. The durable weakness in the JPY looks to be confirmed: the BoJ's governor asked to move up the date of his departure from 8 April to 19 March (at the same time as two other BoJ members are leaving). The EUR/JPY and USD/JPY should thus remain in demand for a while. FI-wise, the 10Y euro swap rates should continue to consolidate below 1.95%. Watch out, though, for 10Y bono yields in the lead up to the auction: they have tightened 28bp since the beginning of the week.
The big story of the day. Italian bond yields spiked again to a 6 week high on news of another derivative loss in Banca Monte dei Paschi di Sienna (BMPS) of over 1 billion euros. The underwriter of the derivative was non other than JPMorgan. The derivative was called Fresh 2008
and this was meant to fool the regulator and the Central Bank of Italy.
Now the big question: how many more of these derivatives are lurking around the banking system in Italy.
(courtesy zero hedge)
Italian Bond Yields Spike To 6 Week Highs On Surge In Monte Paschi Loss Expectations
Submitted by Tyler Durden on 02/06/2013 11:49 -0500
Nearly a month ago,
the first expose
on a previously secret money-losing derivative at Italy's Banca dei Monte Paschi emerged and nobody took notice. A few days later a
second derivative emerged
, and the market finally paid attention sending the stock plunging and political spirits in Italy stirring due to the repeatedly bailed out bank's close ties to the leading Italian Democratic Party. Then a
third and a fourth derivative emerged
. This, of course was just after Italy's Finance Minister Grilli
assured everyone
that Monte Paschi is "
solid
", that oversight of the bank was "
continuous and thorough
", that "
aid was not to help an insolvent bank
" and most hilariously, that "
the Italian banking system is unique for no bailouts
" (
except for all the bailouts
as Rajoy might add).
It was also after various assurances that the first two derivatives were all there was, that Mario Draghi did not know about any of this, until it was revealed he knew years ago, and that no other banks would be impaired. Well, while we still don't know how deep the derivative rot has spread in Italy, but it is guaranteed it does not stop at BMPS, we have now learned of yet another derivative, this time with JPM, that the bank had lied even more, and also that the previously loss estimates for Monte Paschi were, naturally, optimistic and that the final loss may be up to (or over) €1 billion.
Monte dei Paschi lied to the Bank of Italy about the terms of the so-called FRESH 2008 hybrid instrument, worth around 1 billion euros, which it used to partly fund its acquisition of Antonveneta, a judicial document showed on Wednesday.




The document, obtained by Reuters, said Monte dei Paschi's then chief financial officer Marco Morelli had signed an indemnity document in favour of J.P. Morgan which was hidden from the regulator. J.P. Morgan in 2008 underwrote a 1 billion euro capital increase in Monte dei Paschi, and then structured the Fresh 2008 hybrid instrument, convertible in Monte dei Paschi's shares, and sold it to a number of investors.




J.P. Morgan in Milan declined to comment.




According to the prosecutors' document, Morelli also gave a so-called indemnity side letter to Bank of New York, which acted as an intermediary in the FRESH 2008 deal, "at the time of a meeting of the FRESH investors", which was also hidden from the regulator.




Prosecutors suspect that the indemnity side letter violated requirements set by the Bank of Italy by making the FRESH 2008 work like a bond rather than an hybrid equity instrument.
At this point the latest bailout of BMPS, which the Bank of Italy has already pre-cleared, appears assured, as does the emergence of even more money-losing derivative transactions.
The only unknown is how many other banks will be dragged down once Silvio, in an attempt to discredit the Democratic party and gain even more popularity, reveals all the dirty laundry that only he knows as he was the Prime Minister until November 2011 when Goldman's new head of the ECB, Mario Draghi forced him to resign by sending Italian bonds plunging.
The market appears unwilling to wait to find out, sending Italian bonds sliding, and yields spiking to 4.583% or the highest since December 14.
Revenge may well be a dish best served uncollateralized for Bunga Bunga, as Silvio exposes just enough dirt to get none other than the man who was responsible for his ouster to step down, this time from his role as ECB head as even more humiliation is piled upon the former Bank of Italy head.
end
The Two Scariest Words In Europe: "Silvio Berlusconi"
Submitted by Tyler Durden on 02/06/2013 12:08 -0500
The coincidental resurrection of Bunga Bunga boy Berlusconi, amid financial and political fraud allegations (and facts), appears to have struck fear into the heart of European investors. The Draghi 'promise' seems to be getting ready to be tested as 'populist' Berlusconi closes the gap on his adversaries in Italy's election - and with it brings the threat of an end to austerity and any sense of stability in the new normal fiscal and political calmness that has 'apparently' existed for a few months. As the chart below indicates, via Bloomberg, as interest has risen in Berlusconi, so stocks (and Italian credit markets) have plunged at their fastest pace in five months. Recent polls by Sky Italia show the gap narrowing every week as the Monti Paschi debacle drags more and more of Europe's elite into its quagmire. The critical aspect of this renewed 'fear' is the thesis supporting much of the world's risk-assets is predicated on a few fulcrum securities in Europe indicating a cessation of tail risk - with Italian bond yields at six-week highs, concerns are starting to show.
Italian stocks collapsing as Berlusconi's popularity rises...
and Berlusconi's poll results show his popularity is rising consistently...
As Bloomberg notes:
Prime Minister Mario Monti replaced Berlusconi in November 2011, leading a government of non-party political figures in an attempt to convince investors that the country could manage its debt. Berlusconi has pinned his comeback attempt on a pledge to reverse Monti's budget rigor and on Feb. 3 the former premier promised to abolish a property tax and give cash back to voters.
and from now until the elections, opinion polls go dark.
With Italy (and Spain) as seemingly fulcrum risk securities - will we see a repeat of September's resync?
Charts: Bloomberg
end.
The Prime Minister Abe is trying to teach all of us a brand new form of economics:
(courtesy zero hedge)
Abe Says Fears Of Hyperinflation Are "Mostly" Unfounded As He Urges Companies To Hike Wages
Submitted by Tyler Durden on 02/05/2013 21:38 -0500
How does the saying go: it is better to keep your mouth shut and be thought a clueless Keynesian muppet than to open it and remove all doubt? Sure enough, if there was any confusion as to the level of economic comprehension (or lack thereof) of Japan's chosen
savior du jour
, one who is hell bent on destroying its currency and sending energy costs into the stratosphere (but don't worry - as Rajoy would say, inflation is plunging,
except for the things that are soaring
) the following two snippets should clear up the situation once and for all.
Japanese Prime Minister Shinzo Abe said Tuesday in parliament that worries of the central bank's inflation target triggering hyperinflation are unfortunate and unfounded.




"It's unfortunate that there are people who tout the mostly unfounded fears of hyperinflation," Mr. Abe said in a lower house plenary session.
Well as long as it is mostly, all is well.
So what is the plan, and one uses the term very loosely? Again from
the Nikkei
:
Prime Minister Shinzo Abe urged Japan's business leaders Tuesday to raise wages for employees, saying the move could help stimulate domestic demand and beat more than decade-long deflation.
Yes: this is Japan's head central-planner, who just confirmed that the USSR's authoritarian approach to everything was right all along. Until the moment it all turned out to be very, very wrong of course.
end



Shirakawa is leaving 3 weeks earlier than expected:

(courtesy Bloomberg)
Shirakawa Accelerates BOJ Exit as Abe Presses for Stimulus
By
Andy Sharp
&
Mayumi Otsuma
-
Feb 5, 2013 8:44 PM ET
Bank of Japan Governor
Masaaki Shirakawa
will step down on March 19, almost three weeks before his term was due, accelerating a leadership transition that may aid Prime Minister
Shinzo Abe
's campaign for aggressive easing.
Shirakawa, 63, will exit the same day as two deputy governors, he told reporters in Tokyo yesterday. He was scheduled to leave on April 8. Japan's currency slid, adding to losses against the dollar since Abe's administration took office in December on a platform of greater monetary stimulus and a reversal of yen strength that hurts export competitiveness.
The outgoing governor assured the stability of Japan's financial system with liquidity injections during the global credit crisis, and again in the wake of the record March 2011 earthquake and tsunami. At the same time, his failure to end the nation's trenchant
deflation
stoked criticism from lawmakers, and ministers have pledged a replacement who shares Abe's determination to end price declines.
"It's the equivalent of waving a white flag for unconditional surrender," said
Shuichi Obata
, senior economist at Nomura Securities Co. in Tokyo. "Shirakawa didn't share the the government's view that the central bank is responsible for ending deflation."
The Nikkei 225 Stock Average gained 3 percent as of 10:42 a.m. in Tokyo. The yen touched its weakest level in almost three years against the dollar, 93.87. The currency slid 14 percent since mid-November, when the previous government announced plans to hold the December election.
'No Pressure'
"There was no pressure at all from the government, this was my own decision," Shirakawa told reporters last night after a meeting with Abe, saying it was not an act of protest. He said he made the decision yesterday so that the central bank's new leadership could start together.
The short-list to replace him is probably composed of Asian Development Bank President
Haruhiko Kuroda
and former BOJ Deputy Governors
Kazumasa Iwata
and
Toshiro Muto
, according to
Masaaki Kanno
, chief economist at JPMorgan Securities Japan Co., who used to work at the central bank, writing in a note last month.
"The appointment of the next governor and deputies will be at the top of the government's agenda now," Kanno said yesterday.
Global Shake-up
Shirakawa's exit is part of a global changing of the guard, with Canada's
Mark Carney
to take the helm of the Bank of England in July. In China, Governor
Zhou Xiaochuan
will step down next month, the China Securities Journal said Feb. 2. In the U.S.,
Janet Yellen
may be a candidate to replace Chairman
Ben S. Bernanke
at the Federal Reserve a year from now.
Abe has repeatedly said that he wants the BOJ to take responsibility for the 2 percent inflation target it agreed to set last month. His government has defined ending deflation as central to efforts to revive the world's third-biggest economy.
The central bank may be set for "a really fundamental policy shift," said
Richard Jerram
, chief economist at Bank of Singapore Ltd., who has analyzed Asian economies for two decades. "When you have three new people in charge, they basically start from scratch."
While the central bank last month announced plans for Federal Reserve-style open-ended asset purchases, they aren't due to start until January 2014. The deputy governors leaving are
Kiyohiko Nishimura
and
Hirohide Yamaguchi
.
'Bold' Action
"Shirakawa's resignation will likely push forward the timing of bold monetary easing action," said
Akito Fukunaga
, chief rates strategist at RBS Securities Japan Ltd. in Tokyo, a unit of Royal Bank of Scotland Group Plc.
Abe's sway has highlighted the risk of an erosion of the BOJ's independence, with the biggest opposition party signaling that Abe could face resistance in getting his nominee for governor confirmed in the Diet.
"The BOJ's independence must be guaranteed,"
Mitsuru Sakurai
, policy chief for the Democratic Party of Japan, said in an interview on Jan. 29. "We need someone who can do that."
The DPJ lost power in the December election little more than three years after ending the Liberal Democratic Party's half century of domination of Japanese politics. The DPJ yesterday released a statement reiterating Sakurai's comments.
Abe needs opposition support to ensure his nominees are approved in parliament's upper chamber, where his LDP lacks a majority.
Shrinking Economy
Japan's economy shrank in the second and third quarters of last year, with economists surveyed by Bloomberg News seeing another decline in the final three months, followed by a return to growth this quarter after the government unveiled a stimulus package.
Shirakawa during his tenure has emphasized that ending two decades of deflation isn't something the central bank can do on its own. He also consistently warned against keeping interest rates too low for too long, with the risk that it plants the seeds for asset bubbles.
Abe, by contrast, identified ending deflation as a priority during the campaign.
Falling prices
reduce the incentives to borrow and invest in new business projects, erode tax receipts and increase the attractiveness of saving in cash rather than spending or putting money into stocks or bonds.
The yen surged as other central banks stepped up monetary stimulus and Europe's debt crisis drove investment into assets seen as safe havens, eroding Japan's export competitiveness. A report last week showed manufacturing employment fell below 10 million for the first time since 1961. The yen reached a postwar high of 75.35 per dollar in October 2011.
since 2009 falling to 43.9 from 45.2 whereas the manufacturing PMI also imploded all the way down to 42.9
Wolf, correctly states that the French government is basically responsible for 56% of France's GDP with local government, regional government and then the private sector make up the balance
Since 2009 a total of 1087 plant closures have been announced. A total of 703 new plants have sprung up but with a total loss of labour of 8.5%
France is imploding!!
(courtesy Wolf Richter/www.testosteronepit.com)
Spain:
Slush fund scandal may have traction: The FT suggested that the recent slush fund scandal may have some traction as a driver of political instability. The paper highlighted Spain's history with illegal party financing cases, including one that helped to play a role in bringing down the Socialist government of Felipe González. It noted that another slush fund scandal now grinding through the Spanish court system, the so-called Gürtel case, may corroborate some of the new allegations in the so-called Bárcenas case. It also discussed the fairly weak defense from Spanish Prime Minister Rajoy, noting that his promise to release his tax returns does not really address the substance of the allegations.
Prime Minister Hamadi Jebali, who said the identity of the attacker was not known, condemned the killing of Shokri Belaid outside his Tunis home as a political assassination and a strike against the "Arab Spring" revolution.
Tension has been growing between Islamists and secularists such as Belaid, who was a staunch opponent of the moderate Islamist-led government elected in October 2011.
As news of the killing spread, more than 1,000 protesters gathered outside the Interior Ministry, many calling for the fall of the government elected after their uprising chased out veteran ruler Zine al-Abidine Ben Ali in January 2011.
Protesters also took to the streets in Sidi Bouzid, where jobless university graduate Mohamed Bouazizi set himself on fire in despair after police confiscated his unlicensed fruit cart, triggering protests that toppled the president.
"More than 4,000 are protesting now, burning wheels and throwing stones at the police", Mehdi Horchani a resident from Sidi Bouzid, told Reuters. "There is a great anger."
Since the revolution the government has faced a string of protests over economic hardship and Tunisia's future path, with many complaining hardline Salafis were hijacking the revolution in a country dominated previously by a secular elite.
"We will continue to fight the enemies of the revolution," he told lawmakers at the European Parliament in Strasbourg, to applause.
FRANCE WORRIED BY RISING VIOLENCE
"The murder of Belaid is a political assassination and the assassination of the Tunisian revolution. By killing him they wanted to silence his voice," said Jebali, who heads the government led by the Ennahda party, which won Tunisia's first post-Arab Spring election.
Belaid, who died in hospital, was a leading member of the opposition Popular Front party. A lawyer and human rights activist he had been a constant critic of the government, accusing it of being a puppet of the rulers in Gulf Arab state of Qatar, which Tunisia denies.
"Shokri Belaid was killed today by four bullets to the head and chest ... doctors told us that he has died. This is a sad day for Tunisia," Ziad Lakhader, a leader of the Popular Front, told Reuters.
French President Francois Hollande condemned the shooting, saying he was concerned by the rise of violence in France's former colony.
"This murder deprives Tunisia of one of its most courageous and free voices," Hollande's office said in a statement.
"France is concerned by the mounting political violence in Tunisia and calls for the ideas cherished by the Tunisian people during their revolution to be respected."
TENSION OVER RULE
Marzouki warned last month that the conflict between Islamists and secularists could lead to civil war and called for a national dialogue that included all political shades.
The secular opposition has accused Ennahda of being too close to hardline Salafi groups, while Salafis who complain Ennahda is failing to defend Islamic values. Ennahda rejects the charges from both sides.
Ennahda party won 42 percent of seats in 2011 elections but formed a government in coalition with two secular parties, the president's Congress for the Republic and Ettakatol.
Marzouki's party threatened on Sunday to withdraw from the government unless it dropped two Islamist ministers.
The opposition threatened unspecified retribution for the killing, that Ennahda president Rached Gannouchi condemned as "aimed at the democratic process of democratic transition". ‮‮‮‮‮‮ ‬‬‬‬‬‬ "The opposition will take historic decisions in response to this cowardly act", Maya Jribi secretary-general of the secularist Republican Party.
(Writing by Alison Williams; Editing by Jon Boyle)
end
Your early Wednesday morning currency crosses; (8 am)
Wednesday morning we see some euro weakness against the dollar from the close on Tuesday. The yen this the morning again is a little weak against on the dollar, at 93.64 yen to the dollar . The pound, this morning remains constant against the USA dollar, at 1.5661. The Canadian dollar weakened a touch against the dollar.
We have a mixed risk situation this morning with some European bourses in the green and the German DAX down. Gold and silver are mixed in the early morning, with gold trading at $1675.20 (up 2.30) and silver at $31.7 (down 12 cents)
Euro/USA 1.3534 down .0048
your closing 10 year bond yield from Spain:
...a slight rise in yield.
SPANISH GOVERNMENT GENERIC BONDS - 10 YR NOTE
GSPG10YR:IND
5.45
0.07

1.30%
As of 11:59:52 ET on 02/06/2013.
yesterday's yield:
SPANISH GOVERNMENT GENERIC BONDS - 10 YR NOTE
GSPG10YR:IND
5.38
0.06 1.10%
As of 11:59:54 ET on 02/05/2013.
end.
big jump in yield
GBTPGR10:IND
4.58
0.13 2.83%
As of 11:59:49 ET on 02/06/2013.
yesterday's bond yield:
ITALY GOVT BONDS 10 YEAR GROSS YIELD
GBTPGR10:IND
4.46
0.01 0.22%
As of 12:00:00 ET on 02/05/2013.
Your 5:00 pm closing Wednesday currency crosses:
The Euro continued with its morning weakness finishing close to the 1.35 level at 1.3521
The yen added tiny strength, falling remaining in the mid 93 column. The pound basically remained constant against the dollar . The Canadian dollar is finally regaining its strength finishing the session well above par to the USA. The uSA index rose .21 to 79.72
Euro/USA 1.3521 down .0061
USA/Yen 93.44 down .137
GBP/USA 1.5664 up .0002
end.
Your closing figures from Europe and the USA:
everybody in the red today
as investors except England.
i) England/FTSE up 12.58 or 0.20%


ii) Paris/CAC down 51.80 or 1.40%
iii) German DAX: down 83.48 or 1.09%


iv) Spanish ibex down 37.4 points or 0.46%

v) Italian bourse (MIB) down 109.41 points or 0.65%
and the Dow: up 7 points or 0.04%


end.




And now the major USA stories of the day:
If Anonymous breaks into Fedwire or Fedline, the USA will be severely compromised as these lines are the arteries from which capital flow
a very dangerous situation:
(courtesy zero hedge)
Fed Confirms It Was Hacked By Anonymous
Submitted by Tyler Durden on 02/05/2013 22:30 -0500
As was
reported on Monday
, among the numerous files hacked and leaked in the past week by the Hacker group Anonymous was a database of some 4606 regional bankers together with copious amounts of confidential information, which according to Anonymous' twitter account was sourced at the very Federal Reserve, which in turn would imply that the Fed itself had been hacked.
It would also imply that our rhetorical suggestion from
nearly two years ago
had actually been taken seriously by Anonymous. To wit, from March 2011: "perhaps in the aftermath of the IMF "very major breach" by anonymous hackers
, it is really time to make sure all external access points to FedWire andFedLine are truly safe and sound
. It will be very sad if it is uncovered that this source of externally accessible portal to hundreds of billions in emergency Fed funding has been somehow compromised. Just imagine the loss of confidence in the system... Why, a global distributed attack would really stretch the Fed's 1,200-strong police force quite thin." Moments ago
the Fed confirmed that it had, indeed, been hacked by Anonymous
.
The Federal Reserve said on Tuesday that one of its internal websites had been briefly breached by hackers, though no critical functions of the central bank were affected by the intrusion.




The admission, which raises questions about cyber security at the Fed, follows a claim that hackers linked to the activist group Anonymous had struck the Fed on Sunday, accessing personal information of more than 4,000 U.S. bank executives, which it published on the Web.




"The Federal Reserve system is aware that information was obtained by exploiting a temporary vulnerability in a website vendor product," a Fed spokeswoman said.




"Exposure was fixed shortly after discovery and is no longer an issue. This incident did not affect critical operations of the Federal Reserve system," the spokeswoman said, adding that all individuals effected by the breach had been contacted.
While it appears that neither FedWire nor FedLine had been hacked, an internal database containing highly confidential login, and various other, information for at least some Fed-related services had indeed been compromised.
The Fed declined to identify which website had been hacked. But information that it provided to bankers indicated that the site, which was not public, was a contact database for banks to use during a natural disaster.




The website's purpose is to allow bank executives to update the Fed if their operations have been flooded or otherwise damaged in a storm or other disaster. That helps the Fed to assess the overall impact of the event on the banking system.
Which in turn means the two most critical, externally-accessible money clearing websites in all of the developed world, remain possible security threats.
As for the contents of the leaked database which was removed from its original resting place in yet another hacked DOJ server, they can still be found in one of the various mirrors created in the aftermath of Sunday night's hack, such as
this one
.
Broke US Postal Service Cuts Saturday Delivery
Submitted by Tyler Durden on 02/06/2013 07:45 -0500
The completely bankrupt US Postal Service, employer of some 500,000 government workers, which for the past two quarters has been surviving on liquidity fumes even as it posted it biggest ever loss in Fiscal 2012, and which recently
announced its latest stamp price hike
(which bought it two extra weeks of time), has just disclosed what was long anticipated: the end of Saturday mail delivery - a crushing blow to shippers of junk mail everywhere.
The financially struggling U.S. Postal Service says it plans to stop delivering mail on Saturdays, but continue delivering packages six days a week.




In an announcement scheduled for later Wednesday, the service is expected to say the cut, beginning in August, would mean a cost saving of about $2 billion annually.




The move accentuates one of the agency's strong points — package delivery has increased by 14 percent since 2010. The delivery of letters and other mail has declined with the increasing use of email and other Internet use.
Considering the USPS loss last year was $16 billion, all the postal office needs to do to return to profitability is cut delivery on 7 more days in the week and all shall be fixed. Sadly, we are confident some government worker just read this and a lightbulb went over their head. And no: taxing Americans $0.45 per email sent will not be a popular measure.
Of course, the inevitable outcome is that the USPS itself will have to be bailed out. In the meantime, the USPS can spend what little money it does not have on TV ads on channels such as CNBC whose viewers are certainly unaware of the services provided by this most bloated of legacy government entities.
end




The Primary dealers now believe the USA deficit for 2013 will be 1.04 trillion dollars.
With the USA still spending like no tomorrow, I feel the deficit will be just the same as last year at 1.2 trillion dollars.


(courtesy zero hedge)
Primary Dealers See 2013 Deficit As High As $1.04 Trillion
Submitted by Tyler Durden on 02/06/2013 14:54 -0500
Yesterday
we had our 15 minutes
of fun with the CBO's latest budget forecast, which, while wrong as always, provided the mainstream media with its dose of propaganda optimism, by "forecasting" that the baseline 2013 budget deficit will be some $845 billion, well below the $1+ trillion deficit in 2012 (and
quite a bit above
the CBO's last year 2013 deficit forecast of $585 billion). It will be higher. And we know that not only because the CBO is a complete and utter failure when it comes to predicting the future (which as Rajoy would say would be "just as forecast, except for everything that
does
happen"), but because earlier today the Primary Dealers that make up the Treasury Borrowing Advisory Committee (a topic
we have written extensively about
in the past), released their own 2013 budget deficit forecast. The picture there is far less optimistic: the median estimate is some $929 billion, however it is the upside range that is where reality lies, and this number is, according to the likes of Goldman and JPM (who head the TBAC) as well as the 18 other Primary Dealers, as high as $1.037
tr
illion.
Needless to say, when fiscal 2013 closes on September 30, 2013, this number too will be an optimistic estimate of reality.
end.
Well that about does it for tonight
I will see you tomorrow night.
Harvey