Good morning Ladies and Gentlemen:
I am now back in Canada having spent 5 days with my good friend Dr Willie Molloy in Ireland.
I will report on the economic problems of the Republic of Ireland, especially with its number one
problem, the Anglo Irish Bank starting next week.
Before commencing with my regular commentary, I would like to report that Sheila Bair of the FDIC gave
the USA another week of reprieve..there were no failures even though she announced that the banks at risk
rose into the 800's from the 700 level.
Yesterday was the release of the jobs numbers and it was the usual routine where the bankers attempted to raid both silver
and gold. The release of the non farm payrolls always comes out on the first Friday of the month and everybody expects
a raid on the precious metals. Last month was the first time the raid failed.
I will go into the non farm payroll numbers later in the report, but I can safely say that that the cartel got stuffed again yesterday
as the demand for the physical metals around the world handcuffs the cartel in their attempt to manipulate these precious metals
markets.
Gold closed down $2.30 to 1249.20. Gold, at one point, early in the session, touched $1237.60. From its nadir, gold rose rapaidly to touch $1250
before backing off slightly to 1249.20 which is its official close. There is an access market operating after 1:30 pm but the market is thin and
cartel bankers often try and influence markets for the next trading week.
The real standout was silver. First of all, silver closed at $19.91 at the official close. The final price at INO.com was $19.96 in the access
market.
Here is a 5 year chart on silver and please note that we are rapidly coming to its previous high of 20.64 in Sept 2008:
Spot Silver - 5 Years
Update Chart
END-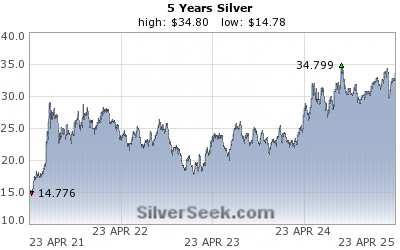 end.
The gold comex OI continues to rise with Friday's number coming in at 582,029 for a rise of 2,896
contracts as the large specs take on the commercials.
In the silver comex, the OI rose by 1383 contracts with the bankers supplying the necessary unbacked
paper and the large and small speculators piling into this metal. Please remember that this number is basis
Thursday night as we are always 24 hours behind.
The Committment of Traders report released after the market closed revealed exactly what we thought was
happening...the bankers supplying the paper and speculators sensing blood piling into the metals. Here is the release of the report:
COT Gold, Silver (this report is basis Tuesday night)
Gold COT Report - Futures

Large Speculators

Commercial

Total

Long

Short

Spreading

Long

Short

Long

Short

272,509

34,432

67,118

171,275

455,836

510,902

557,386

Change from Prior Reporting Period

16,265

-621

1,842

-1,254

19,007

16,853

20,228

Traders

209

54

63

42

60

277

155

Small Speculators

Long

Short

Open Interest

66,450

19,966

577,352

4,035

660

20,888

non reportable positions

Change from the previous reporting period

COT Gold Report - Position
In gold: we find that those large speculators that were long in gold increased those positions by a massive 16,265 contracts.
those large speculators that were short gold reduced their shorts by a tiny 621 contracts.
in the all important commercial sector:
those commercials that have been long reduced those longs by a tiny 1254 positions.
But look at those that were short: they increased those short positions by a massive 19007 contracts.
in the small spec category: those that were long increased their longs by 4035 and those that were short increased those
positions by 660 contracts.
Ladies and Gentlemen: It does not seem to me that JPMorgan and partners in crime are getting out of the proprietary trading platforms.
There is a section in the new act which exempts them in derivative trades with respect to silver and gold and that
is what these criminal banks are relying on in continuing to carry out their nefarious activities.
And now for the all important star of the week, silver:
Silver COT Report - Futures

Large Speculators

Commercial

Total

Long

Short

Spreading

Long

Short

Long

Short

54,472

9,659

22,086

27,884

87,261

104,442

119,006

12,217

2,211

-1,363

-3,422

5,103

7,432

5,951

Traders

99

31

29

31

40

144

88

Small Speculators

Long

Short

Open Interest

26,371

11,807

130,813

-804

677

6,628



You can see that those large speculators that were long increased those positions by a very very healthy 12,217 contracts.
Those that were short increased those short positions by 2211 contracts.
In the all important commercial category, those commercials which have been long reduced their longs by a large 3422 contracts.
This is the same as going more short. But please look at the commercial short: Those commercials who have been perennially short
increased their shorts by a monstrous 5103 contracts.
Forget the small speculators..JPMorgan and the boys obliterated them a while ago and these guys are afraid to put their toes in the water
Thus the rise in silver is from large players and they are certainly taking on the banking cartel.
Lets get a closer look at the inventory at the comex and the notices to deliver to get an idea of what is going on:
Here is a chart on the Friday's physical movements:
Silver
Withdrawals from Dealers Inventory

zero oz

Withdrawals from customer Inventory

n/a

Deposits to the dealer Inventory
n/a
Deposits to the customer Inventory

492,243

No of oz served (contracts=

ZERO

)

zero

No of oz to be served

1807

contract

s

)

9,035,000

Gold
Withdrawals from Dealers Inventory

Withdrawals from customer Inventory

Deposits to the dealer Inventory

386

Deposits to the customer Inventory

418

No of oz served (contracts =

20

20

00

oz
No of oz to be served

xxxxx
Before starting, the comex announced a startling 330,702 oz of gold transferred from the customer inventory to the dealer by way of an internal transfer.
This is approximately 10.3 tonnes of gold This is always a lease whereby the customer receives a handsome premium for loaning his gold for a short period of time.
T
he customer is of course, praying that he gets his gold back before the next delivery month.
In the comex gold, September is a non delivery month and the only way gold is obtained is through the exercise of a Sept gold options contract.
Yesterday there was a rather large 20 options exercised for gold totalling 2000 oz of gold.
The total number of notices served thus far in this non delivery month of Sept total 301 or 30100 oz of gold or about 0.94 tonnes of gold.
Looks to me like there is going to be huge amounts of options exercised. We will have to wait until the end of the month to see how much will stand.
Generally all those that are exercising gold contracts in Sept stand for physical metal.
And now for the all important silver notices and inventory:
In a very startling development, there were zero oz of silver notices sent out in this delivery month of Sept. As this is the first part of the month,
I must shake my head in bewilderment. This is totally earth-shaking. Usually the dealer tries to offload all his metal early in the month due to massive
storage fees and insurance etc. The fact that zero notices were tendered means no metal is available.
On top of that the open interest on the delivery month of Sept showed that it increased from 1787 to 1807 for a gain of 20 contracts for 100,000 oz
I must also alert you that 2 million oz of silver were removed on Sept 3.2010. These long holders probably got a handsome reward in cash not to take delivery.
They took the cash and rolled to December. They too are praying that they did not make a mistake and take delivery this month.
The total notices sent out so far in this delivery month is a tiny 709 contracts or a tiny 3.545 million oz.
The OI that remains as I indicated is 1807 contracts or 9.035 million oz.
The total numer of oz of silver standing in this delivery month is:
3.545 million (already served) + 9.035 million oz (to be served) + 115,000 oz (options exercised from previous month)= 12.69 million oz of silver.
I must point out that even though this figure is low, we are hearing reports that volume at the LBMA in silver and gold are dropping off in increasing numbers.
This is due to the fact that many players have decided to take their physical metal out of the London and thus the cartel bankers have to call in much of their derivative
100:1 leverage trades. Volume has contracted in silver by over 35% in the past few months.
A failure to deliver will commence first at the LBMA and then onto the comex.
The action yesterday on the gold and silver comex strikes me that the bankers are having midnight meetings to discuss what on earth they are
going to do when a failure occurs.
Please look at this announcement a few days ago where the IMF announced the release of 16.85 tonnes of gold and our friends, the Russians
added 16.2 tonnes of gold to its official reserves. I would also like to emphasize that although China does not announe its increase in official
gold holdings, it definitely engages in that activity.
China produces around 309 tonnes of gold per year. They have been going after the higher grades first which will certaintly hurt them in a few years
when they go after the lower grade stuff. They are very anxious to get as much gold out as possible.
China's demand for gold is around 440 tonnes per year. Thus they must import at least 29 tonnes of gold from the markets just to satisfy demand
for its citizens. This does not include official reserves. You can bet the farm that they would at least import 20 tonnes of gold to keep up with the Russians
adding to their official reserves.
Here is the report on the IMF sell of 16.85 tonnes of gold.
IMF Gold Assets Fall 16.85 Tons as Russia Adds to its Holdings
By Claudia Carpenter
www.businessweeknews.com

Wednesday, September 1, 2010
LONDON -- The International Monetary Fund's gold reserves fell by 16.85 metric tons in July as Russia added 16.2 tons to its holdings, according to figures from the Washington-based lender.
Reserves of gold at the IMF were 2,917.07 tons at the end of July, compared with 2,933.92 tons a month earlier, data on the IMF's website show. Russia increased holdings to 726.02 tons last month from 709.81 tons, according to the figures.
The IMF plans to sell a total of 403.3 tons of gold. India, Mauritius, and Sri Lanka bought 212 tons last year, and the IMF in February said it would begin selling the remainder on the open market.
Central banks have increased holdings and gold-backed exchange-traded fund assets owned by investors yesterday climbed to the highest since at least 2003, according to data compiled by Bloomberg.
Gold for immediate delivery traded at $1,249.15 an ounce at 8:06 a.m. in London. Prices climbed to a record $1,265.30 on June 21.
end.
The big news this week is Ron Paul suggesting to Congress that they must audit the gold holdings at Fort Knox:
Ron Paul questions whether there's gold at Fort Knox, NY Fed
-
Rep. Ron Paul (R-Texas) said he plans to introduce legislation next year to force an audit of U.S. holdings of gold.
Paul, a longtime critic of the Federal Reserve and U.S. monetary policy, said he believes it's "a possibility" that there might not actually be any gold in the vaults of Fort Knox or the New York Federal Reserve bank.

The libertarian lawmaker told Kitco News, a website tracking news about precious metals, that an audit was necessary to determine how much the U.S. maintains in gold reserves in case the government were to use gold to back the dollar.

"If there was no question about the gold being there, you think they would be anxious to prove gold is there," he said.
"Our Federal Reserve admits to nothing, and they should prove all the gold is there. There is a reason to be suspicious and even if you are not suspicious why wouldn't you have an audit?

"I think it is a possibility," Paul said when asked if there was truth to rumors that there was actually no gold at Ft. Knox or the New York Fed.

Paul had been one of the Republicans to spearhead a broader audit of the Fed as part of the Wall Street reform bill passed through Congress this year. The provision, which was weakened somewhat in the final version, found Paul joining with a number of Democrats to require the Fed to open its books and outline its assets and liabilities.

The gold reserves, which Paul's new bill would audit, are generally seen as a guarantee on a nation's currency, but the U.S. moved the dollar away from being tied to the price of gold in 1972.

Paul stopped short of calling for the reinstitution of the gold standard and instead called for the government to allow the use of hard currency — gold and silver tender — alongside the use of the dollar.

"If people get tired of using the paper standard they can deal in gold or silver," he said.

end.
and this story from James Sinclair and Kitco on its importance:
Fox News takes Kitco's Ron Paul gold audit story national
Submitted by cpowell on Thu, 2010-09-02 01:29
9:40p ET Wednesday, September 1, 2010
Dear Friend of GATA and Gold:
Congratulations to Kitco News and its reporter Daniela Cambone for having broken last week what this week Fox News made into a national story, the call by U.S. Rep. Ron Paul, R-Texas, for a serious audit of U.S. gold reserves. The Fox News story, broadcast and posted today and appended here, is notable for two reasons apart from calling attention to the audit issue.
First, the Fox News story quotes Paul as remarking that the audit should determine not only the simple presence of gold in the U.S. government's vaults at Fort Knox, Kentucky, and elsewhere but also "whether any of it has been obligated."
That is, Paul is fully aware of the Federal Reserve's involvement in gold swaps with foreign banks, an admission made by Fed Governor Kevin M. Warsh a year ago in the course of GATA's litigation against the Fed under the Freedom of Information Act, even as Warsh insisted that the Fed's gold swap arrangements must remain secret:
http://www.gata.org/files/GATAFedResponse-09-17-2009.pdf
And second, the Fox News story is notable for the refusal of the Treasury Department to comment about the gold audit issue: "Representatives from the Treasury Department and U.S. Mint did not respond to requests for comment on Paul's proposal."
Imagine what would happen if mainstream financial news organizations began to put detailed, coherent questions to the Fed and Treasury Department about the disposition of the U.S. gold reserve, the gold swap arrangements, and the overwhelming if obscure public record of Fed, Treasury, and other U.S. government agency interest in suppressing the gold price:
It is interesting that when questionned, the Treasury refused to respond to questions.
The game ends if an audit is passed as the world will find that their gold has disappeared.
In other physical news, the central fund of canada continues to show a huge positive of over 9% to its NAV in its fund of CEF.a
The PHYS fund has seen its premium lowered to around 10%. We still have not seen any inventory obtained for
the Sprott silver fund.
It is unusual to see the central fund of Canada not go after more silver with its high premium.
It is with this feature that pays for our insurance and storage costs. It also gives a 1 cent dividend per year
received on every Nov 1. Probably they too are having difficulty in locating physical silver.
And now for the big economic stories of the day:
As explained above, the non farm payrolls were released and they report showed a better than expected result:( from Reuters)
Payrolls fall less than expected in August
WASHINGTON (Reuters) - U.S. employment fell for a third straight month in August, but the decline was far less than expected and private payrolls growth surprised on the upside, easing pressure on the Federal Reserve to prop up growth.
Nonfarm payrolls fell 54,000, the Labor Department said on Friday as temporary jobs to conduct the decennial dropped by 114,000.
Private employment, considered a better gauge of labor market health, increased 67,000 after a revised 107,000 gain in July. In addition, the government revised payrolls for June and July to show 123,000 fewer jobs lost than previously reported.
The decline in payrolls was about half as large as expected. Analysts polled by Reuters had forecast overall employment falling 100,000 and private-sector hiring increasing 41,000.
The unemployment rate edged up to 9.6 percent last month, in line with market expectations. The rise in the jobless rate reflected an increase in the labor force as some discouraged workers resumed the hunt for jobs.
"We really need private businesses to step up and begin to hire more aggressively for this recovery to really gain momentum," said Ryan Sweet, a senior economist at Moody's Economy.com in West Chester, Pennsylvania.
The smaller-than-expected job losses last month could assuage fears the economy is sliding back into recession and ease pressure on the Fed -- the U.S. central bank -- to launch a fresh round of bond buying to keep borrowing costs low.
Concerns of a double-dip recession have diminished somewhat this week as data showed strength in manufacturing and gains in consumer spending but the sluggish pace of growth has kept investors on edge.
While the unwinding of temporary census jobs has been a major drag on payrolls, an uncertain economic outlook has also caused businesses to pare hiring.
end.
Jessie of Americancafe.com correctly addresses the huge seasonal adjustments and of course the big B/D plug:
03 SEPTEMBER 2010

When the US government announced a 'better than expected' headline growth number in its non farm payrolls report for August, a loss of 'only' 54,000 jobs versus a forecasted loss of 120,000 jobs, people had to wonder, 'How do they do it? We do not see any of this growth and recovery in our day to day activity.'

Here's one way that those reporting the numbers can 'tinker' with them to produce the desired results.

As you may recall, there is often a very large difference between the raw, unadjusted payroll number and the adjusted number. Seasonality plays the largest role, although there can occasionally be special circumstances. Since this is designed to be a simple example I am going to lump all the various adjustments that could be and call them the 'seasonality factor' since it is most usual and signficant.

Here is a chart showing the unadjusted and the adjusted numbers. As you can see, a seasonal adjustment can legitimately normalize the numbers for the use of planners and forecasters. This is a common function in businesses affected by seasonal changes. Year over year growth rates, rather than linear, comparisons, can also serve a similar function.




Quite a variance in numbers that are very large.

Since it probably is in the back of your mind, let's address the infamous "Birth Deal Model" now, which I have advised may not be such a significant factor as you might imagine. This is an 'estimate' of new jobs created by small businesses. A comparison of the last few years demonstrates rather easily that this number is what is called 'a plug.'

How can the growth of jobs from small business not been significantly impacted by one of the greatest financial collapses in modern economic history?




Certainly the Birth Death model offers room for statistical mischief. It is important to remember that it is added to the RAW number before seasonal adjustment, and that number has huge variances. So the effect of Birth Death is mitigated by the adjustment for seasonality. If it were added to the Seasonal number from which 'headline growth' is derived it would be a huge factor. But it is not the case, although the timing of the significant annual adjustments and additions is highly cynical, and supportive of number inflation. Perhaps calling it a 'plug' is too kind, and 'fudge factor' would be more accurate.

From my own analysis of each month's data, and especially looking at the changes made to the numbers over time, the two biggest factors are the restatements of prior months, and sometimes years, and the monthly changes in seasonality factor.

Let's take a closer look at the seasonality adjustment.

The raw unadjusted number for US non-farm payrolls is very large, on the order of 130+ million in the most recent month.

The 'headline growth number' these days is generally around a hundred thousand jobs or so, which is several orders of magnitude difference smaller than the unadjusted number from which it starts to be derived. Even the month over month fluctuations in the unadjusted number are quite large, and added to that are the Birth Death adjustments, which are often as large or larger than the 'headline number.'

Do you think the Government uses the same seasonality adjustment factor profile each year? Let's take a look at just the month of June, and how the adjustments were made since 2003. It is important to point at here that the seasonality factor is subject to backward revisions. What is used in the current month can and often does change substantially as it becomes 'history' and is no longer in the public eye.

As it turns out the seasonality factor varies over time, as determined by year over year. Here is a chart that shows the adjustment factor by year. It does not seem that great does it, but the variance is there.




How significant are these variances? Let's take a look at a specific example.

Here is the use of seasonal adjustment in June of 2010, compared to June of 2009. The takeaway from this chart is that even a slight change in seasonal adjustment can result in a large impact to the 'headline number' that Wall Street and the political commentators watch and expound upon.
end.
In another Reuters release, the non manufacturing ISM report showed a big decline in activity. This is the service sector which is the denominate part of the GDP:
U.S. non-manufacturing sector slows in August -ISM
NEW YORK, Sept 3 (Reuters) - The U.S. non-manufacturing sector grew in August for an eighth straight month but at a slower pace than July and at a rate that was below expectations, according to an industry report released on Friday.
The Institute for Supply Management said its index of national services activity fell to 51.5 in August from 54.3 in July. The median forecast of 70 economists surveyed by Reuters was for a reading of 53.5.
A reading below 50 indicates contraction in the manufacturing sector, while a number above 50 means expansion.
The report's employment component fell to 48.2 from 50.9, while new orders dipped sharply to 52.4 from 56.7, suggesting a slowdown in the sector.
end.
I would also like to report that construction fell twice as much as expected; (from James Sinclair commentary)
Construction Spending in U.S. Fell Twice as Much as Forecast
September 2nd, 2010
By Shobhana Chandra
Sept. 1 (Bloomberg) — Construction spending in July fell twice as much as forecast, led by a slump in homebuilding that will depress U.S. economic growth.
The 1 percent drop brought spending to $805.2 billion, the lowest level in a decade, after a revised 0.8 percent drop in June that wiped out a previously estimated gain, Commerce Department figures showed today in Washington. Spending on federal government projects fell by the most in a year.
Builders are facing a slump in demand following the end of a homebuyer tax credit, even with mortgage rates at a record low, while mounting foreclosures will add to the inventory and further restrain prices. Government construction spending is also likely to stay weak as stimulus-linked outlays wane and state budgets shrink.
"Housing is fairly weak and construction related to the stimulus is fading," Russell Price, a senior economist at Ameriprise Financial Inc. in Detroit, said before the report. "Some commercial projects may have been delayed as businesses are uncertain about the outlook."
Construction spending was down 11 percent in the year ended in July.
John Williams reports that there is no statistical change in the outlook for usa employment growth:
He still has the U6 which is the governments own numbers at 16.7%.
His undemployment index rose to 22%: (from Jim Sinclair commentary)
Jim Sinclair's Commentary
John sheds light on today's economic figures. This is a must have (by subscription) resource.
- August Unemployment: U.3 = 9.6%, U.6 = 16.7%, SGS = 22.0%
- August Payrolls Fall 54,000, Gain 60,000 Ex-Census Workers
- Better-Than-Expected Payroll Changes Were Not Statistically Meaningful
"No. 321: August Employment and Unemployment"
http://www.shadowstats.com/
end.
And this rebuttal of the jobs numbers from Eric who is superb on his analysis:
Labor Market Spin Attempts to Shape Perceptions and Expectations
CIGA Eric
Companies add 67K workers, but jobless rate rises,
Private employers hired more workers over the past three month than first thought, lifting hopes for the weak economy. But the unemployment rate rose in August for the first time in four months as more people entered the market looking for work.
As headlines attempt to shape perceptions and expectations, a quick review of the data reveals that little has changed in the labor market.
The recovery, in comparison to 2004 of the 2003 to 2008 liquidity injection, remains weak. Birth/death creation as a percentage of total jobs creation remains roughly the same percentage as 2004. Total jobs created, however, are down significantly.
Birth/Death Model (BDM) Contribution to Nonfarm Net Payrolls (NFP) Added/(Lost):

In the battle to alter expectations, the jobs report is being spun as not as bad as expected. As a counter balance to this view, I submit that the weak trend in trucking and transportation, a measure of domestic and international demand, has been unable to turn positive during the recovery. This is hardly an indication of strength.
Truckers and Warehousing Payroll And YOY Change:

Also, the jobs creation/(destruction) histogram suggests that job creation barely exceeds labor force expansion on an annual basis. After the massive job losses of the past two years, it's going to take a lot more than effectively treading water in the labor market to bring down the 15%+ real unemployment rate.
Job Creation Histogram (JCH): Net Nonfarm Payrolls Added/(Lost) less Civilian Labor Force Added/(Lost), 12 Month Average.

Source: finance.yahoo.com
This next story is very alarming. Harrisburg PA will default on its loans to the banks this Sept 15.2010.
As Jim Sinclair ponders: under what Chapter will they be filling under:
im Sinclair's Commentary
Like the first few banks to go broke, the increasing amount of significant cities seeking bankruptcy protection is going to grow and grow.
The most important question not answered here is WHAT chapter of the Bankruptcy Act did Harrisburg file under?
Harrisburg, Pa., defaulting on its bonds
By Aaron Smith, CNNMoney.com staff writer
September 2, 2010: 11:22 AM ET
NEW YORK (CNNMoney.com) — The capital city Pennsylvania is broke and will be skipping this month's multi-million dollar bond payment.
On Sept. 15, Harrisburg, Pa., was scheduled to make a $3.29 million payment on the bonds it issued to build a trash plant. But, the cash-strapped city doesn't have the dough.
"The city's budget is in deficit," said Chuck Ardo, spokesman for Harrisburg Mayor Linda Thompson. "We're looking for ways to trim the budget just to keep services going."
"Now the chickens have come home to roost," the mayor said in a statement released Wednesday.
In May, Moody's knocked the rating on its general-obligation bonds three notches to B2 — five steps below investment grade. To put that into perspective: Moody's rating on Greece's government debt sits at A3 — still investment grade.
"It's a warning to holders of bonds issued by financially stressed state and local governments," said John Lonski, chief economist for Moody's Investors Services. "Credit crisis is still with us."

end.
There seems to be a run on the Kabul bank in Afghanistan where Karzai's brother has a major stake. They have asked the usa for a bailout:
Kabul Bank Woes Spur Call For Another U.S. Treasury Bailout
Something of a bank run appears to be underway in Afghanistan as scared depositors pull their money out of Kabul Bank, or try to.
The withdrawals by Kabul Bank depositors was triggered by news that two top bank officials left the institution earlier this week as corruption allegations swirled around the bank.
The two officials were reportedly involved in unauthorized investments involving about $160 million in Dubai real estate, according to a big shareholder in the bank, Mahmoud Karzai, the older brother of Afghan President Hamid Karzai.
Mahmoud is making a suggestion that is likely to gain very little traction in Washington: he's calling for the U.S. to bail out Kabul Bank.
An excerpt from the Washington Post which has been closely tracking the Kabul Bank story:
Action by the United States, said Mahmoud Karzai, would prevent a run on Kabul Bank and protect other banks, too. He said Kabul Bank is "stable and has money" but cannot withstand a stampede by panicked depositors.
end.
I am glad to be back and I will try and answer the many emails that I got over the past few days.
Before leaving, it is important to state that the bankers can always paper over, paper defaults with newly issued paper.
They have not figured out a way of issuing new gold and silver on a physical default.
Keep that in mind.
I wish everyone a wonderful Labour day weekend and
I will report on Tuesday.
all the best
Harvey