Good morning Ladies and Gentlemen:
Before starting with this morning's commentary, let me introduce you to our latest edition to the banking morgue: (4 banks)
Regulators shut 3 Fla. banks, 1 in Calif.
WASHINGTON — Regulators on Friday shut down three affiliated banks in Florida and a small California bank, bringing the number of U.S. bank failures this year to 77.
The Federal Deposit Insurance Corp. took over the banks owned by holding company Bank of Florida Corp. They are: Bank of Florida-Southeast, based in Fort Lauderdale, with $595.3 million in assets; Bank of Florida-Southwest, based in Naples, with $640.9 million in assets; and Bank of Florida-Tampa Bay, based in Tampa, with $245.2 million in assets.
The FDIC also seized Granite Community Bank, located in Granite Bay, Calif., with $102.9 million in assets.
EverBank, based in Jacksonville, Fla., agreed to acquire the assets and deposits of the failed Florida banks. Tri Counties Bank, based in Chico, Calif., is assuming the assets and deposits of Granite Community Bank.
In addition, the FDIC and EverBank agreed to share losses on the three Florida banks' loans and other assets. Losses will be shared on $437.3 million of Bank of Florida-Southeast's assets, on $568.1 million of Bank of Florida-Southwest's assets and on $210.8 million of Bank of Florida-Tampa Bay's assets. The federal agency and Tri Counties Bank agreed to share losses on $89.3 million of Granite Community Bank's assets.
The failures of the three Florida banks are expected to cost the deposit insurance fund a total of about $203 million. That of Granite Community Bank is expected to cost around $17.3 million.
With 77 closures nationwide so far this year, the pace of bank failures is more than double that of 2009, which was already a brisk year for shutdowns. By this time last year, regulators had closed 36 banks. The pace has accelerated as banks' losses mount on loans made for commercial property and development.
The number of bank failures is expected to peak this year and to be slightly higher than the 140 that fell in 2009. That was the highest annual tally since 1992, at the height of the savings and loan crisis. The 2009 failures cost the insurance fund more than $30 billion. Twenty-five banks failed in 2008, the year the financial crisis struck with force, and only three succumbed in 2007.
As losses have mounted on loans made for commercial property and development, the growing bank failures have sapped billions of dollars out of the deposit insurance fund. It fell into the red last year, and its deficit stood at $20.7 billion as of March 31.
The number of banks on the FDIC's confidential "problem" list jumped to 775 in the first quarter from 702 three months earlier, even as the industry as a whole had its best quarter in two years.
A majority of institutions posted profit gains in the January-March quarter. But many small and midsized banks are likely to continue to suffer distress in the coming months and years, especially from soured loans for office buildings and development projects.
The FDIC expects the cost of resolving failed banks to grow to about $100 billion over the next four years.
The agency mandated last year that banks prepay about $45 billion in premiums, for 2010 through 2012, to replenish the insurance fund.
Depositors' money — insured up to $250,000 per account — is not at risk, with the FDIC backed by the government.
Last night, I sent a complaint to the SEC chairwoman Mary Schapiro and the CFTC chairman, Gary
Gensler, with respect to GLD being a possible fraud:
Dear Chairman Gensler and Chairwoman Schapiro:
First of all, I would again like to extend my thanks to you, Chairman Gensler, for allowing me to testify in front of your committee
on the proposal to have position limits on the precious metals, silver and gold.
I would like to bring to your attention certain developments that have come to light that may play a major part in your decision.
The BIS just released its semi-annual report on over the counter derivatives of the major banks and dealers in the G 10 countries and Switzerland.
The following are graphs from the data released:
You will recall, that in my testimony, in gold, I highlighted that in the previous semi annual report, the gold derivatives increased by 2300 tonnes of gold, whereby forwards and swaps
accounted for 1800 tonnes and options 500 tonnes.
The new semi annual report released Nov 24.2010 showed forwards and swaps increase

in dollar value

from 179 billion dollars to 201 billion dollars. In tonnage of gold, it fell by a tiny 300 tonnes.
The bulk of the drop was in options. The dollar volume of gold options totalled 222 billion dollars, dropping from the last report of 246 billion dollars. In tonnage however, this drop was in the order of 1900 tonnes.
If one takes both halves of the BIS report on the forwards, there is a suggestion that the entity GLD has acquired much of its gold not by purchases but through forwards and swaps initiated by the bullion banks
The following chart shows the tonnes held in trust as reported by the GLD. During the first half of 2009, its holdings jumped 340 tonnes, and this was by far its greatest percentage increase.
A much smaller 33 tonnes of gold was added in the second half.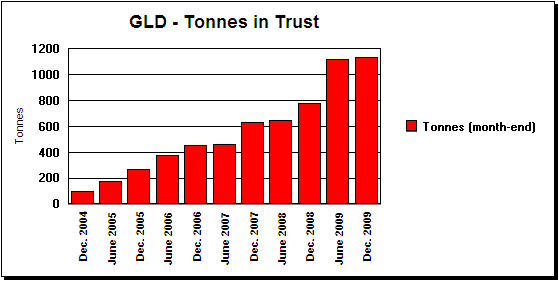 Is it a coincidence or is there a reason why GLD's holdings in 2009 mirrored the big first half jump in the BIS gold forwards and swaps and the second half 33 tonnes of increased gold inventory

which

almost completely

match the BIS's forwards for the latter half of the year 2009?
I have written to you in the past, expressing my doubt as to whether the entity GLD had any official gold behind it.
Just recently, Catherine Fitts did a comprehensive study on GLD's governing documents and she suggests that although GLD may not lend or swap gold, it may receive swapped gold from a bullion bank
who received it from a central bank. You may find her commentary here:
There have been many complaints to the CFTC and the SEC on this issue.
I believe that the larger risk with GLD is not whether it has the gold it claims, but whether its gold (and that gold is housed in the UK) is insufficiently protected against the threat of government
Fitts believes that the gold received by the GLD authorities is swapped gold, whereby the central bank (Bank of England) receives cash and the GLD receives gold with the provisio that the gold
must be returned if the central bank requires it.
What happens to all of those shareholders were thought they were holding a percentage of physical gold? In essence they are holding paper with nothing backing the entity.It would be a nightmare
for two sets of regulators--the SEC and the CFTC,
Another scenario may be even more frightening. What if the GLD authorities encumbered this gold and a central bank

(the Bank of England)

cannot retrieve this gold when called upon. Then we have a central bank default.
It is interesting that the Bank of England has only 300 tonnes of gold to its credit. The GLD has 1267 tonnes. Thus the Bank of England which serves as a depository has swapped 967 tonnes of
gold that is either private or of a foreign sovereign nature.
There are many problems that I feel you must investigate as the above scenario seems to suggest that the GLD is a fraud.
I thank you for your attention.
Gold closed up by 30 cents to 1212.30. Silver was down 5 cents to 18.41.
The gold comex OI for the overall future trading months fell by a huge 6200 contracts to 558,119 with most of the fall in the front June month.
In silver the total OI dropped a 1000 contracts to 120500. The drop in OI seems to signify some of the shorts wishing to vacate the arena.
As for deliveries on the silver and gold for the last trading day for May, we had zero deliveries of gold and only 1 delivery of silver.
There were no other changes.
So we end the month of May with the following:
Gold: from options exercised 204,000 oz or 6.6 tonnes. This is the figure that I will use throughout June. May is not a delivery month but June is for gold and we try and keep all delivery months together.
Some commentators try to keep each month separate. I feel it is easier to understand the process if I keep each delivery month together with respect to each metal.
we ended the delivery month of May with 23.73 million oz standing for real silver. The month of March was a touch over 22 million oz. From our vantage point, a little over 5 million oz of silver
have actually been delivered to the comex vaults to satisfy the longs.
Yesterday, was the release of the COT report which is of course basis last Tuesday night:
In gold…
*The large specs decreased longs by 10,801 contracts and decreased shorts by 6,822.
*The commercials decreased longs by 3,084 contracts and decreased shorts by 14,449.
*The small specs decreased longs by 4,677 contracts and increased shorts by 2,709.
Here we see that the large specs decreased their positions by a considerable 10801 contracts but also decreased their shorts by a huge 6822 contracts.
The large specs decided that the market was too frothy for them and they lessened their positions considerably.
the smaller commercials lightened their longs by a smallish 3000 contracts. However the large cartel bankers used the opportunity to decrease
their short positions by a huge 14449.
Once their covered their shorts, the price of gold was allowed to rise.
The small specs are basically not in the game.
The takedown of silver for the gold option expiry revealed the following in silver…
*The large specs reduced longs by 9,518 contracts and reduced shorts by 1,560.
*The commercials increased longs by 1,546 contracts and reduced shorts by 6,223.
*The small specs decreased longs by 1,670 contracts and decreased shorts by 1,859."
In silver with respect to the large specs again we see a reduction in longs by a considerable 9519 contracts. They also reduced their shorts by 1560 contracts.
The commercials however increased their long position by 1546 contracts and reduced their short position by a smaller 6222.
The smaller specs are not in the silver game as well.
The big news that I will report on is the open interest of gold at the comex for the front month of June: (this is the amount of gold that in all probability will stand by the end of June)
The magic number today is 11,356. That's the open interest on June Comex gold going into first notice day. Theoretically, every one of those contracts could receive notice of delivery today and that would entail the delivery of 1,156,000 ounces of gold.
The total number of June gold in tonnes is 36.6 tonnes. (1,156000)
By adding the May exercised gold contracts of 6.6 tonnes we get a total number of oz standing at 1,340,200 or 43.2 tonnes of gold.
I would like to give you a background demand for real physical silver and gold and how it relates to the comex:
In gold, the world produces 2400 tonnes per year or approx 75 million oz of gold. The world gold stock advances 2% per year. From the beginning of time approximately 150-160,000 tonnes of gold have been
produced and that would fit in a tennis court-cubed.
The usa produces around 240 tonnes of gold or 7.5 million oz, mainly from the Newmont and Barrick gold deposits in Nevada. Other gold mines are in Idaho and Colorado.
Gold demand per year is a little more difficult to pin due to poor reporting practices of the World Gold Council.
However, I will try and give you what we believe is the most accurate demand picture in gold;
It looks to us that jewellry demand from around the world is about 3200 tonnes of gold. The jeweller also receives old gold jewellry from customers and he melts this down
to make new jewellry. We call old jewellry handed in to make new gold, scrap gold and this is estimated at around 600-800 tonnes of gold per year. The fabricated 3200 tonnes of gold
includes this scrap into its figures.
Investment demand is even more difficult to guage and the reason for this is the addition of GLD which is included in investment demand.
In this figure we get bars of gold for investment and newly minted gold coins. Our best guess, is that investment demand is around 1800 tonnes of gold.
It may be higher.
Thus for physical gold the demand is 3200 tonnes of gold for jewellry -600 tonnes scrap + 1800 tonnes of investment gold = 4400 tonnes.
The demand over supply with respect to physical only is around 2000 tonnes. (It may be as low as 1500 tonnes or as high as 2200 tonnes).
It is this deficit in gold that must be made whole by above ground gold from central banks holdings.
The 6 delivery months on the USA comex generally see an average of 1.0 million oz standing for real gold. This gold generally serves two purposes:
1. jewellry demand
2. investment demand.
The usa demand for gold is approximately 25% of world totals. Thus, jewellry demand is around 800 tonnes and investment demand is around 400 tonnes of gold.
Here is a summary for the usa gold and silver eagle sales this month: (from ed Steer)
The U.S. Mint had another report yesterday. They advised selling another 8,000 one-ounce gold eagles and another 111,500 silver eagles. Month-to-date, they have reported 184,000 one-ounce gold eagles sold... and 3,611,500 silver eagles sold. Will they break the 4 million mark today? Good question... and if they don't, look for a huge number to be reported in the first couple of days of June that they've deliberately withheld from reporting in May.
end.
In gold eagles, the usa has reported a monstrous 184,000 oz sold and the month has not been concluded. They is also a smaller no of 24K gold buffalos.
The total number of gold oz that the usa mint is predicting for the next 12 months period is around 2.6 million oz of gold or 83.3 tonnes of gold or approx 34% of usa production.
The usa must use gold produced in the usa first in its production. If demand exceeds supply, it can then import the gold needed. With respect to gold, the usa has sufficient supplies to meet
the mint regulations.
Thus with respect to jewellry because the demand is so high at 800 tonnes in the usa, gold coming from the usa sources do not meet the demand requirements and gold must be imported
and that source is London, the dominant physical market.
The silver market is a little different because we do not have a central or above ground supply of silver metal.
The world demand for silver is around 900 million oz. The supply of silver coming from all mines throughout the world is 680 million oz.
There is really only one major silver mine in the world:
Pan America Silver (PAAS)
Most silver is produced as a by-product to gold production. For example, Agnico eagle produces silver as a by product to its gold production. The silver reduces its cost of gold mining.
The big difference between gold and silver is the fact that gold is always accumulated and silver is always consumed. Gold has very little industrial use
other than to make our women beautiful. Silver has many industrial uses such as a terrific conductor of electricity and thus it is the dominant
commodity in hydro-electric wires. It is a terrific antibacterial and thus it is used in my profession of pharmacy, in burn creams such as silver sulfadiazine
It is now being used with bandaids to prevent infection. It is being used in washing machines to stop odours etc. It is used in x-rays and of course in photography.
Colloidal silver is finding continually new uses in medicine.
The usa produces 40 million oz of silver per year. The usa mint produces a beautiful silver eagle and these coins are in great demand throughout the world.
As explained above, the mint must use all usa supplies first. As you can see from the above commentary, the silver eagle sales for this month will probably total 4.0 million oz.
Thus on a 12 month scale at this rate, demand for silver eagles will total around 48 million oz. For the first time ever, the usa will have to import silver as it only produces 40 million oz.
Last month silver eagle sales totalled 3.6 million oz.
Thus in silver we have demand of 900 million oz and a supply of 680 so the deficit is 220 million oz. Scrap is around 100 million oz so the real deficit is 110 million oz.
which must be made up from somewhere!!
I hope this give you a little background on total supply and demand for gold and silver and how this will interlate with the comex deliveries.
Many have asked me if the comex can default with this delivery month of June with 1.3 million oz of physical gold standing. (43 tonnes of gold) The answer is it is very possible
as we see many competing entities wishing gold and silver product:
1. PHYS (Eric Sprotts physical gold ETF) is after 6 tonnes of gold after receiving his initial 12 tonnes of gold.
2. CEF.a (Central Fund of Canada). This fund generally demands 6 tonnes of gold annually, and issues shares for that gold. This fund has equal amts of gold and silver.
3. GTU>UN (Central Fund of Canada ..gold only) demands also around 6 tonnes annually and issues shares for that gold.
As you can see from my complaint to the SEC and CFTC, the GLD entity was put on earth to remove demand from the equation as the world was losing too much gold
to private entities like jewellers, hoarders and sovereign authorities like Russia, and China.
We are now seeing jewellry demand return in India from its former higher regal status. At one point in time, India imported almost 40% of world's gold production at 800-1000 tonnes per year.
The Indian culture use gold in the wedding season as the bride's family issues gold to the groom's side. The women wear their wealth for all to see.
With demand increasing from all sectors it will become more difficult for the comex authorities to satisfy the long holders.
In closing my physical report, here are the premiums to NAV for the real physical funds:
The CEF bullion vehicle was less exuberant. Closing at a premium to NAV of 8.6% (Wednesday 9.4%). PHYS similarly closed at a 10.761% premium (Wednesday 12.868%).
Again, we see that the GLD added .3 tonnes to its inventory.
MarketVane's Bullish Consensus for gold was unchanged at 73% as was the HGNSI at 30.5%. The GLD ETF added 0.30432 tonnes to 1267.93016 tonnes, another record.
Finally, after many weeks, the SLV added considerable inventory to its fund: (from Ed Steer)
The SLV finally had something to report... and it was that they received 881,950 troy ounces.
For what it is worth, here is the latest World Gold Council reports on gold demand (take the figures with a grain of salt. Our figures are more accurate
at these guys who work for the banking cartel):
World Gold Council Sees Ever Greater Demand For Gold, As "Consumers Become Accustomed To Higher Prices"
http://www.zerohedge.com/article/world-gold-council-sees-ever-greater-
demand-gold-consumers-become-accustomed-higher-prices
-END-
OK let's go to other big economic stories from yesterday:
The blow well in the Gulf of Mexico continues to worry us all:
The BP authorities are rushing in like grease-lightening trying to perform a "top-kill" in order to stop a huge number of gallons of oil spilling into the gulf.
They have not given us estimates as to how much is being released but it can spill up to 3million gallons of oil per day. The deposit is over 5000 feet below the surface
and thus the pressure is so huge down there, the blow-out can spill millions of gallons in a 90 day period in the gulf. This will destroy fisheries as well as create havoc for
shipping as a lightening strike can create a massive fire and blow up a ship. Plant life will be destroyed.
Here is a must read article on the subject so everyone can understand its alarming details:
.
Here are some of the more important passages. I urge you to read the entire article
Andy
RL…
I say this because the amount, the insane volumes, of gas and oil that could be released if this thing blows apart are truly of nightmare proportions…this one isn't in the south western gulf like the IXTOC blowout was…the GOM is sort of separated into two portions and the western side is sort of trapped…the Eastern side is not and the "Loop current" which connects to the "Gulf Stream" flows right through this side…it will carry the oil spillage out into the Gulf stream and all the way up the eastern seaboard all the way to the UK and Europe where it ends. There will be who knows how many cubic feet of gas released into the atmosphere and the surrounding area with an untold amount of toxins…the economic implications are dire…the fishing industry annihilated, beaches and tourism to them destroyed…and who knows what other effects there will be..it's a very very bad disaster to say the least…it's bad enough NOW…and THIS IS NOTHING COMPARED TO WHAT MAY HAPPEN…and WILL HAPPEN if they cannot stop this thing…you must get your head around that, nothing will stop this from blowing apart and going wide open if the rush of fluids cannot be halted, it is a CERTAINTY.
rense.com/general90/analy.htm
read the whole enchilada here]
end.
This is the latest from BP:
BP Persists on 'Top Kill,' Prepares Backup Plan to Stop Spill
May 29 (Bloomberg) -- BP Plc planned to continue working through the weekend to plug a leaking oil well in the Gulf of Mexico that has produced the largest spill in U.S. history.
Since Wednesday, BP has been starting and stopping high- horsepower pumps that ram mixtures of mud-like drilling fluid and rubber scrap into the oil and gas that's been gushing from the well for more than five weeks.
"We'll continue this operation as long as necessary until we're either successful with it or are convinced it won't succeed," Doug Suttles, the BP executive in charge of the spill response, said at an afternoon press conference in Robert, Louisiana.
Yesterday, engineers suspended work on a "relief" well intended as a long-term back-up solution so that equipment it's using can be available should the so-called "top kill" fail.
President Barack Obama, in Louisiana, said Energy Secretary Steven Chu will work with BP to seek alternatives if the top- kill plan fails.
"There are going to be a lot of judgment calls involved here," Obama told reporters yesterday in Grand Isle, Louisiana. "There are not going to be silver bullets for the problems we face."
Obama met with Louisiana Governor Bobby Jindal, who said he's frustrated at the reluctance of federal officials to allow dredging and filling of manmade islands to protect marshes.
BP's costs from the spill rose to $930 million, the London- based company, the largest producer of oil and gas from the Gulf of Mexico, said yesterday in a statement. BP leased the rig destroyed in the explosion, the Deepwater Horizon, from Geneva- based Transocean Ltd., the world's largest deep-water driller.
'Catastrophe'
BP has a 65 percent stake in the field, known as Macondo. Its partners in the project are Anadarko Petroleum Corp. and Japan's Mitsui & Co. About 26,000 damage claims have been filed and 11,650 have already been paid, BP said yesterday.
Chief Executive Tony Hayward called it an "environmental catastrophe," a day after a government panel estimated the well has gushed 12,000 to 19,000 barrels of oil a day, making it the largest oil spill in U.S. history. Hearings are scheduled to continue today in Louisiana into the death of 11 workers killed in the April 20 drilling rig explosion that triggered it.
Citing risk to workers and the environment raised by the spill, Obama on May 28 extended for six months a moratorium on deep-water drilling permits.
Relief Well Stopped
BP suspended drilling on the second of two relief wells intended to permanently seal the damaged well from the bottom, so that its blowout preventer will be available should the top kill fail, Suttles said.
In that event, BP will saw off a section of crimped pipe from the top of the blowout preventer of the leaking well, install the second blowout preventer atop the first, and close its valves to halt the leak.
That will take several days, and in the interim, engineers plan to cover the sawn-off pipe with a temporary cap designed to direct some of the oil to a ship on the surface, Suttles said.
Halting work on the second relief well is not a sign that BP has concluded the top kill will fail, Suttles said.
Mud Supplies
The first phase of the top-kill effort used less than 15,000 barrels of drilling mud, Suttles said. BP had 50,000 barrels available and has made sure there are additional supplies of mud and rubber material, he said. The leaking well is 5,000 feet (1,524 meters) below the surface, forcing BP to rely on remote-operated vehicles rather than divers.
"It's not going well," Tad Patzek, chairman of the Petroleum and Geosystems Engineering Department at the University of Texas at Austin, said yesterday after reviewing a live video of the leak.
"You have more or less the equivalent of six fire hoses blasting oil and gas upwards and two fire hoses blasting mud down," Patzek said. "They are losing the competition."
Oil from the spill may have spread underwater for 22 miles toward Mobile, Alabama, researchers aboard a University of South Florida vessel reported May 27. Initial tests aboard the Weatherbird II show the highest concentrations of "dissolved hydrocarbons" were 400 meters (1,312 feet) below the surface.
To contact the reporter on this story: Jim Polson in New York atjpolson@bloomberg.net
Last Updated: May 29, 2010 00:01 EDT
end.
In a nutshell, if the "top kill" does not work, we will have a catastrophic event on our hands!@!
end.
The stock market fell by 122 points yesterday with the Euro falling to 1.2279. The culprit was this news from Spain:
12:39 Fitch reduces Spain credit rating to 'AA+' from 'AAA'
The market has moved lower in reaction to the downgrade.
Jim Sinclair on the Spanish downgrade;
Mid Day Thoughts
Spain's was debt downgraded by Fitch. The euro's fall was decelerated by intervention stepping up slightly below 1.23.
All interventions fail. Large US Fed swaps were utilized in this action.
John Williams of ShadowGovernment Stats.com has issued his real GDP results as well as a huge contraction in his model for M3.

Banks are making gobs of money but they refuse to lend money to anyone. The reserves at the banks are redeposited back at the Fed.
Here is John's latest piece:
No. 298: GDP and New Orders for Durable Goods Revisions
May 27th, 2010
JOHN WILLIAMS' SHADOW GOVERNMENT STATISTICS
COMMENTARY NUMBER 298
GDP and New Orders for Durable Goods Revisions
May 27, 2010
_________
Gross Domestic Income Continues Showing Slower Growth
Than Gross Domestic Product
Massive Revisions to Durable Goods Orders
Employment Set to Retrench Anew
(Net of Census Impact)
__________
PLEASE NOTE: The next regular Commentary is scheduled for Friday, June 4th, following the release of the May payroll and unemployment report. There also will be an interim Commentaryupdating the outlook for the employment report, as well as updating housing conditions and the durable goods revisions (see below).
– Best wishes to all for an enjoyable Memorial Day weekend, John Williams
Economy on Brink of Renewed Decline — Don't Blame It on Europe. The broad money supply continues to tumble on a year-to-year basis, with May data likely to show deepening annual contraction both before (nominal) and after (real) inflation adjustment. The lead-time between the signal for economic downturn (annual decline in real M3) and the actual softening of economic data suggests that the downturn is close, and it could surface in the first major economic release for May: next Friday's (June 4th) employment/unemployment report (seeCommentary No. 296 for detail on the signal). There is potential for May payrolls to contract net of the temporary census boost.Some on Wall Street and/or the Administration may be anticipating a double-dip recession, since stories already are surfacing of how the systemic solvency problems in Europe could push the U.S. economy back into recession. While politically it may be worth the effort to divert blame abroad, the problem remains a liquidity squeeze at home, where the Fed and the Administration have been unable to provide long-term stability to the system or adequate liquidity to consumers and businesses.
Ironically, as discussed in the prior Commentary No. 297, the weakness in the money supply foreshadows the economic renewed downturn, which in turn should set the stage for a serious inflation problem. The systemic crises of the last couple years may be contained, temporarily, but they are not resolved. Renewed economic downturn would threaten whatever systemic stability has been in place. The worst is still is ahead in the ongoing economic and systemic solvency disasters. Details will be updated in the next several Commentaries.-END-
Here is an article written by Bloomberg's Vincent Fernando on the sudden contraction of M3, the total money supply:
The Worst Money Supply Plunge Since The Depression Means A Double Dip Is Now A 'Virtual Certainty'
Vincent Fernando, CFA | May 27, 2010, 3:18 AM
The stock of U.S. money as measured by 'M3′ money supply fell to $13.9 trillion from $14.2 trillion during the three months ending in April.
This 9.6% annualized contraction is unprecedented in the post-Depression era, and shows how, in this sense, America isn't printing more money. There are actually less dollars in the system since U.S. money supply is crashing, even well into the recent economic recovery.
The positive take on this is that we don't have to worry about either inflation or the Fed tightening significantly any time soon.
The negative take is that this crashing money supply will lead to both deflation and a double dip recession:
Telegraph:
"It's frightening," said Professor Tim Congdon from International Monetary Research. "The plunge in M3 has no precedent since the Great Depression. The dominant reason for this is that regulators across the world are pressing banks to raise capital asset ratios and to shrink their risk assets. This is why the US is not recovering properly," he said.
In other releases consumer spending became flat in April which does not still well with Government head hunchos:
US consumer spending unexpectedly flat in April
WASHINGTON, May 28 (Reuters) - U.S. consumer spending was unexpectedly flat in April, but real disposable incomes recorded their biggest increase in nearly a year as the labor market improved and inflation remained muted, a government report showed on Friday.
The Commerce Department said spending was the weakest since September, when it fell 0.6 percent, after increasing by an unrevised 0.6 percent in March.
Analysts polled by Reuters had expected consumer spending, which normally accounts for over two-thirds of U.S. economic activity, to increase 0.3 percent last month.
Despite April's flat reading, analysts expect strong spending in the second quarter as a firming labor market boosts household incomes.
Government data on Thursday showed real consumer spending rose at a 3.5 percent annual rate in the first quarter, more than double the 1.6 percent pace in the October-December period.
Spending adjusted for inflation was also flat in April after a 0.5 percent increase the prior month, the Commerce Department said.
Personal income rose 0.4 percent, the report showed, after rising by the same margin in March. Markets had expected income to rise 0.5 percent last month.
Real disposable income rose 0.5 percent in April, the largest increase since May, after a 0.3 percent gain the prior month. The rise in income prompted households to build savings.
The saving rate rose to 3.6 percent from 3.1 percent in March. Savings rose to an annual rate of $398.5 billion.
The report also showed the personal consumption expenditures price index, excluding food and energy, rising 1.2 percent in the 12 months to April, the smallest rise since September.
The index, which is a key inflation gauge monitored by the Federal Reserve, increased 1.3 percent in March.
end
The Chicago area manufacturing sector shows its first slowdown in quite a while:
09:45 May Chicago Purchasing Manager's Index 59.7 vs. consensus 61
Apr. reading was 63.8.
* * * * *
end.
Here are two other releases which show the economy as being in a luke-warm recovery and mild inflation expectations:
9:55 May final Univ. of Michigan Confidence 73.6 vs. consensus 73.3
May prelim reading was 73.3.
* * * * *
Sentiment, inflation expectations rise in May
NEW YORK (Reuters) - Consumer sentiment rose a bit in May from April but was roughly unchanged from levels since February, while the one-year inflation expectations also climbed, a survey showed on Friday.
The final May reading on the overall index of consumer sentiment was 73.6, up from April's reading of 72.2 and up slightly from the preliminary May reading of 73.3, according to the Thomson Reuters/University of Michigan's Surveys of Consumers report.
Analysts polled by Reuters had predicted a final sentiment reading of 73.3 for May. The sentiment readings for February and March were also at 73.6.
The one-year inflation expectation index rose to 3.2 percent in May from 2.9 percent in April, while the five-to-10-year inflation measure rose to 2.9 percent from 2.7 percent.
"The data represents troublesome increases in inflation expectations, especially given the recent declines in gas prices," Richard Curtin, director of the surveys, said in a statement.
Consumer sentiment is seen as a proxy for consumer spending that fuels 70 percent of the U.S. economy.
The surveys' gauge of current economic conditions was at 81.0 at the end of May, the same reading as April. The May reading was slightly below 81.1 forecast by analysts.
The barometer of consumer expectations rose in May. It came in at 68.8 versus 66.5 in April. It was slightly above the 68.0 level predicted by analysts.
The index of consumers' 12-month economic outlook rose to 83 in May from 80 in April.
-END-
There is much talk on municipality bankruptcies occuring. This is from Jim Sinclair and he talks about municipalities in California going bust:
Bankruptcy talk spreads among Calif. muni officials
By Jim Christie Jim Christie – Thu May 27, 4:51 pm ET
SAN FRANCISCO (Reuters) – Two years after Vallejo, California, filed for bankruptcy protection, officials in nearby Antioch are also tossing around the 'B' word.
Antioch's leaders earlier this month said bankruptcy could be an option for the cash-strapped city of roughly 100,000 on the eastern fringe of the San Francisco Bay area.
Antioch's fiscal woes are standard issue for local governments in California: weak revenue from retail sales and property taxes is forcing spending cuts, layoffs and furloughs.
But cost-cutting measures may not be enough to keep Antioch's books balanced, so its city council is openly discussing bankruptcy.
"We just want to alert people to the possibility," Antioch Mayor Pro Tem Mary Helen Rocha said.
Orange County Treasurer Chriss Street would not be surprised if more local governments across the Golden State sound a similar alarm.
Street expects more talk of municipal bankruptcy across California because local government finances are in such dire shape — a situation underscored on Wednesday when a top finance officer for Sacramento County projected a worse-than-expected shortfall for the county of $181 million, which could force more than 1,000 layoffs from the county's payroll.
here is a piece on China which may be experimenting in using a gold backed currency:
Gold a 'Good Choice' for Boosting Global Use of Yuan (Update2)
By Bloomberg News
May 28 (Bloomberg) — China's trade in yuan-denominated gold investment products moves the currency closer toward global acceptance and the country should develop more of them, a central bank official said.
Pricing commodities in the currency "helps China's goal to internationalize the yuan," Wang Zhenying, deputy director- general of the Department of Financial Management at the Shanghai office of the People's Bank of China, said today. "Gold is a good choice to have yuan trading."
Gold consumption in China, the world's biggest producer, may double within the next 10 years as supplies fail to keep pace with demand from investors and the jewelry industry, the World Gold Council said in March. China, the world's largest holder of foreign exchange reserves, is seeking greater use of its currency to reduce reliance on the dollar.
"We agree that yuan-denominated gold trading will help enhance the yuan's global status," Chen Shiyong, general manager of financial markets at Industrial Bank Co., said in interview today. "We also would like to be part of the efforts to increase gold investment products available to the public."
The trading volume of the gold contract on the Shanghai Futures Exchange fell 12 percent last year, compared with an almost fourfold advance for copper, 92 percent increase in rubber and 39 percent gain for aluminum, according to bourse data.
end.
This does not look good for our labour scene. The jobs report will be out on Friday, June 4.2010:
The following comes from Jim Sinclairs web site and the author is CNN's Nick Anderson
Jim Sinclair's Commentary
Here is a unique idea. Fire the politicians and keep the teachers.
100,000 teachers nationwide face layoffs
By Nick Anderson
Thursday, May 27, 2010
Senior congressional Democrats and the Obama administration scrambled Wednesday to line up support for $23 billion in federal aid to avert an estimated 100,000 or more school layoffs in a brutal year for education budgets coast to coast.
As early as Thursday, the House Appropriations Committee expects to take up a bill that couples the school funding with spending for the Afghanistan war — a measure that has bipartisan support. But a parallel push in the Senate stalled this week after a leading proponent concluded that he couldn't muster enough votes to surmount Republican opposition.
"We desperately need Congress to act — to recognize the emergency for what it is," Education Secretary Arne Duncan said Wednesday on Capitol Hill. "We have to keep hundreds of thousands of teachers teaching."
Republicans and some Democrats say the government can't afford an extension of last year's economic stimulus that would add to the federal deficit. The stimulus law kept many school budgets afloat with $49 billion in direct aid to states and billions of dollars more for various programs. But the stimulus funding is trailing off before state and local tax revenue can recover from the recession.
Skeptics of a new education jobs fund point out that the teaching force in recent years has grown faster than enrollment, with schools adding instructional coaches and reducing class sizes.
I finally, want everyone to see this funny clip on the world financial collapse. The data is accurate in this clip:
http://www.youtube.com/watch?v=H0a_FA_J6Sw&feature=player_embedded
I think I have given you enough reading for the weekend. To all our American friends out there, I wish you all a wonderful holiday weekend.
I will not issue a Monday report but will report on Tuesday. If anything comes up, I will report on those stories.
all the best
Harvey