Good morning Ladies and gentlemen:
First of all, I would like to report that the usa regulators closed its 124th bank last night
in Florida. Here is the CNN news report on this closure:
FDIC announces 124th bank failure
State regulators shutter Commerce Bank of Southwest Florida. Closure will cost the FDIC $23.6 million.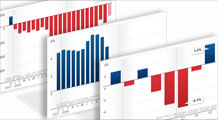 Last quarter, the economy grew by the largest amount since the summer of 2007, but there are signs that things are still getting worse.
Map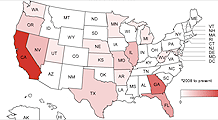 NEW YORK (CNNMoney.com) -- State regulators shuttered Commerce Bank of Southwest Florida in Fort Myers, Fla., Friday night, bringing the 2009 national tally to 124.
Customers of Commerce Bank of Southwest Florida bank are protected, however. The Federal Deposit Insurance Corp., which has insured bank deposits since the Great Depression, currently covers customer accounts up to $250,000.
Central Bank in Stillwater, Minn., will assume all of the failed bank's $76.7 million in deposits, according to the FDIC. Central Bank also entered into a loss-share agreement with the FDIC on $61 million of Commerce Bank's $79.7 million in assets.
The single branch of Commerce Bank will reopen on Monday as a branch of Central Bank.
Customers of the failed bank can access their money over the weekend by writing checks or using ATMs or debit cards. Checks will continue to be processed, and borrowers should make mortgage and loan payments as usual.
The FDIC also said customers should continue to use their existing branch until they receive notice from Central Bank that the takeover has been completed.
An average of 11 banks have failed per month this year, and the federal coffer is thinning under the massive strain.
The fund now stands below $10 billion, down significantly from $45 billion a year ago. Friday's closure will cost the FDIC an estimated $23.6 million.
After factoring in expected closures, the agency says its insurance fund is in the red and will remain there through 2012. Over the next four years, the agency expects bank closures will cost $100 billion.
The bank failure count for 2009 is still far from 1989's record high of 534 bank closures which took place during the savings and loan crisis, when the insurance fund also carried a negative balance.
The tally is nearly five times the number that failed in 2008, and the highest tally since 1992 when 181 banks failed
After the markets closed, the CFTC released the COT report on silver and
gold. I still feel that the data is corrupted. With the huge advancement in both
gold and silver price, one would expect that the commercials on a net basis
would be supplying the paper. The COT report basically shows no change
from the previous week in that it was the small speculators supplying the silver and gold
paper. Judging from the action in both metals this week, the data is just impossible to believe. Here is the report for you to see for yourself:
OT Gold, Silver and US Dollar Index Report - November 20, 2009

-- Posted Friday, 20 November 2009 | Digg This Article
| Share this article | Source: GoldSeek.com


Gold COT Report - Futures

Large Speculators

Commercial

Total

Long

Short

Spreading

Long

Short

Long

Short

284,390

48,693

68,359

99,935

381,481

452,684

498,533

Change from Prior Reporting Period

3,992

6,355

-4,978

1,645

407

659

1,784

Traders

209

82

69

40

57

289

173

Small Speculators

Long

Short

Open Interest

80,435

34,586

533,119

1,955

830

2,614

non reportable positions

Change from the previous reporting period

COT Gold Report - Positions as of

Tuesday, November 17, 2009
Gold COT Report - Futures & Options Combined

Large Speculators

Commercial

Total

Long

Short

Spreading

Long

Short

Long

Short

299,818

29,053

198,159

180,347

492,119

678,323

719,330

Change from Prior Reporting Period

-1,333

710

16,480

17,368

10,085

32,515

27,275

Traders

249

83

155

47

61

345

255

Small Speculators

Long

Short

Open Interest

95,358

54,351

773,681

3,775

9,015

36,290

non reportable positions

Change from the previous reporting period

COT Gold Report - Positions as of

Tuesday, November 17, 2009
Silver COT Report - Futures

Large Speculators

Commercial

Total

Long

Short

Spreading

Long

Short

Long

Short

47,597

7,117

27,334

35,903

94,284

110,834

128,735

3,735

1,209

-2,717

1,103

738

2,121

-770

Traders

80

38

42

35

32

145

90

Small Speculators

Long

Short

Open Interest

31,366

13,465

142,200

-1,715

1,176

406

non reportable positions

Change from the previous reporting period

COT Silver Report - Positions as of

Tuesday, November 17, 2009
Silver COT Report - Futures & Options Combined

Large Speculators

Commercial

Total

Long

Short

Spreading

Long

Short

Long

Short

49,519

2,711

61,570

43,366

108,954

154,455

173,235

4,288

504

664

1,581

2,031

6,534

3,199

Traders

100

31

63

36

37

162

112

Small Speculators

Long

Short

Open Interest

37,603

18,823

192,059

-1,035

2,299

5,499

non reportable positions

Change from the previous reporting period

COT Silver Report - Positions as of

Tuesday, November 17, 2009
OK lets go to yesterdays gold and silver trading:
Gold closed up by $5.00 in regular comex trading. At 1:30 the gold price was $1146.40. It continued in the access market
in strange fashion up another 4.00 dollars where it closed in that market at $1150.90.
Silver closed at $18.43 at 1:30. Silver rose to $18.51 in the access market.
Today, I will spend most of my commentary time on the silver and gold trading.
First of all, here is the summary of comex trading yesterday in gold:
The volume recorded is an estimate by the CFTC and they are always off by 20% or greater.
The total volume recorded by the commission was 233638. The probable volume will turn out to be
280,000 and this number will be released on Monday. Judging from the access market on Friday,
the OI on Friday, reported on Monday will be huge!
Also note the huge OI for Dec 09 gold: 238500.
This number is astronomical for this time as we have 1 day before options expiry. The December gold
contract goes off the board Monday night, but the December contract still trades. To get an accurate
figure as to how many contracts are standing, I need Dec 1.09 figures. We will get a big clue on NOV 30.09
which is first day notice.
Finally, note the huge OI increase of over 13000 contracts for the entire gold complex. Our bankers did everything Thursday trying to prevent gold's rise
The bankers were intent on preventing long option holders from exercising their gold comex in the money contracts.
The failed on Thursday and I will describe later in the commentary, a complete failure on Friday, by our banker cartel members.
The total OI for silver has been fluctuating between 139000 and 141000 for the past few days.
Thus no real surprises here. However note the OI for Dec 09 silver at 55,550. It has not declined much.
As with gold, the silver comex goes off the board on Monday night.
It seems to me that in both silver and gold, we have investors wishing to clean out the comex.
As for the trading in both comex gold and silver, the bankers showed up at the regular time and whacked these
metals at the usual 3 am time period. (right after the London gold fix).
For the second straight day, we had an outside day reversal. These events are rare. To have them two days in a row
is like once in a century.
I believe that this is the second month in a row where we have seen consecutive outside day reversals on options expiry week.
In other news, Ted Butler on Eric King world discussed his latest paper on silver. It is a paid subscription
of which I do not get, but on the radio broadcast Butler discussed that it is his supposition that the CFTC may close down silver
trading in its entirety due to the huge 200 million oz short position by JPMorgan.He feels that it would be impossible to put position limits on silver and then
let it trade. It would blow up the bank.
Butler sent his article to the CFTC and to CEO Jamie Dimon for comment.
He has not heard from any party.
Here is the radio report which is very important for you to hear:
Silver market analyst Ted Butler interviewed by King World News
Submitted by cpowell on Sat, 2009-11-21 04:35.
Section:

Daily Dispatches
11:34p ET Friday, November 20, 2009
Dear Friend of GATA and Gold (and Silver):
Interviewed for 12 minutes today by Eric King of King World News, silver market analyst Ted Butler said he is gaining some confidence about the integrity of the silver exchange-traded fund and believes that big money is not yet being invested in silver but could be soon, exploding the price. You can listen to the interview at the King World News Internet site here:
http://www.kingworldnews.com/kingworldnews/Broadcast_Gold+/Entries/2009/...
CHRIS POWELL, Secretary/Treasurer
Gold Anti-Trust Action Committee Inc.

Max Keiser in his weekly TV report disclosed his close contacts with Bundesbank officials. In the report, he stated that
Germany is now buying gold on the open market.
Germany supposedly has 3400 tonnes to its credit. And yet it is buying gold.
Our bet: half of their gold has been leased and they will never get that back
The other half is over at West Point and the Germans are pulling their hair trying to get
Max Keiser and Germany buying Gold

Hi Bill


The 'K Man' reported yesterday on his new show The Keiser Report (from 7.30mins) his contacts at the Bundesbank have told him that Germany will announce they are buying gold!


The video is at

www.maxkeiser.com
end
The Russians continue to purchase gold as they are trying to catch up with their southern neighbour China:
The Russian Central Bank has reported adding 15.5 tonnes (500,000 ozs) to its reserves in October, bringing them to 19.5Mm 0zs (606.6 tonnes). Most likely the purchases were from domestic producers and from Gokhran, the state agency reported to be intending to sell some time ago.
end.
As for yesterdays trading here are some numbers. However the trading day is really all about silver and gold:
You will note that the dollar rose and the Euro fell. Thus gold is rising in all currencies.
To my fellow Canadians:
The Canadian dollar closed at 1.0710 yesterday. Thus Canadian gold is 1232.61 per oz . This is a record high close.
The Central fund of Canada also closed at record high of 15.48.
The yield on the 10 yr T note is 3.36%.

The dollar rose .39 to 75.68. The euro fell .0052 to 1.4861 and the pound lost .0157 to 1.6424.

Crude oil fell 74 cents per barrel to $76.72.

The CRB rose .31 to 274.58.
The recovered from early losses to only close down 14 to 10,318. The Nasdaq fell 11 to 2146.
Yesterday morning we were greeted with this news story out of the Ukraine:
07:47

Market update: SPZ moves lower on rumors of Ukraine default on sovereign debt
Unconfirmed, Ukranian Railway has defaulted on on a Barclays bond, and also has another government-guaranteed obligation with Deutsche. If Deutsche were to accelerate the payment, and were the obligation not to be paid, it would be considered a government default. None of this information is confirmed, but it is being circulated and contributing to the aformentioned Ukraine concerns



and then this:
RATINGS AGENCY FITCH SAYS NOT AWARE OF UKRAINE DEFAULT ON ANYTHING WITH SOVEREIGN GUARANTEE
Barclay's is the big bank that funded a huge proportion of Ukraine debt. This would be a big blow to England.
In other news, the GDP will have to be revised downward due to the high trade deficits:
U.S. Q3 seen revised down on widening trade deficit
WASHINGTON (Reuters) - The U.S. economy's return to growth in the third quarter was less brisk than previously thought as the trade deficit worsened and companies still aggressively cut inventories, a Reuters survey predicted.
The poll of 66 economists forecast real gross domestic product growth would be revised down to an annualized rate of 2.9 percent from the 3.5 percent pace reported by the government last month.
It will still be the first expansion after four quarters of decline. Recent data, ranging from the trade balance to business inventories, have suggested the government's initial estimates on output were a bit on the optimistic side.
"Among the components, we look for the revisions to show a wider trade deficit, a bigger decline in nonresidential structures investment, slightly softer consumer spending growth, and a bigger contraction in inventories," wrote economists at Barclays Capital.
"Despite the likely downward revision, we still believe that the third quarter will prove to be the first quarter of recovery and that it demonstrates a decisive turn in the economy."
The U.S. trade deficit widened to $36.5 billion in September from $30.8 billion the previous month. Both exports and imports recorded their best month since December 2008.
The Commerce Department will release its second estimate of third-quarter GDP on Tuesday. The revisions have already been priced by the market and are unlikely to generate too much interest in a holiday-shortened trading week.
However, traders will keep on eye on the advance estimates on corporate profits to be released together with the GDP report. Aggressive cost cutting, mostly head count reduction, has seen companies reporting strong earnings.
The survey forecast after tax corporate profits surging 6.2 percent in the third quarter after rising 0.9 percent in the April-June period.
-END-
Politicians did everything to try and stop Ron Paul but failed. His bill advanced from committee.
The committee rejected the phony Watt bill:
Fed Audit Shield Takes Blow After Ron Paul Proposal Advances
By Scott Lanman
Bloomberg News
Friday, November 20, 2009
WASHINGTON -- The Federal Reserve's shield from congressional audits of interest-rate decisions took a blow from lawmakers who want to open the central bank's books to greater congressional scrutiny.
The House Financial Services Committee yesterday advanced a proposal to remove a three-decade ban on audits of monetary policy and carry out an examination of the central bank. The plan was offered by U.S. Rep. Ron Paul, a Republican from Texas who has called for the abolition of the Fed, and based on a bill with more than 300 co-sponsors…
Yesterday's vote is "probably not going to be helpful in terms of keeping inflation expectations low and supporting the dollar," said Michael Feroli, a JPMorgan Chase & Co. economist in New York and former Fed researcher. The central bank "should do whatever it takes to stop this from going forward and eroding confidence in the Fed's independence," he said.
http://www.bloomberg.com/apps/news?pid=newsarchive&sid=a27_ZNGlQpNs
Before closing, I want to inform you of a big development in the short term treasuries.
The 3 month treasury bill rate has now gone negative. That is correct, you must pay them to lend your
This shows the economy is in desperate shape. Not growing as our leaders are stating.
Here is the report( taken from the King Report):
From The King Report late last night…
On Thursday, January and February T-Bills went negative (-0.03% yield) and the six-month Bill fell to.12 (.175 on Tuesday), the lowest six-month yield since 1958. A tad worse Initial Jobless Claims couldnot produce this havoc. Conventional wisdom says it's yearend window dressing…But why Bills?
If you want to park cash, why not place it in some short-term paper with a positive yield? So also thosepundits that exclaim there is no problem are not correct. If there were no concerns, the cash would noteagerly run to a negative yield vehicle.
The FT on negative T-Bill rates: Short-term US interest rates turned negative on Thursday as banksfrantically stockpiled government securities in order to polish their balance sheets for the end of the year.
The development highlighted the continuing distortions in the financial system more than a year afterLehman Brothers' failure triggered a global crisis.
The growing appetite for short-term government debt reflects an effort by banks to present pristineyear-end balance sheets to regulators and investors…
http://www.ft.com/cms/s/0/38f71676-d56a-11de-81ee-00144feabdc0.html
-END-
I hope you all have a grand weekend